---
WARBIRD REGISTRY
>
PACKET REGISTRY
>
PREVIOUS PAGE
---
Developed by Fairchild, the C-82 was designed as a heavy-lift cargo aircraft to succeed pre-war designs like the Curtiss C-46 Commando and Douglas C-47 Dakota. The aircraft was designed for a number of roles, including cargo carrier, troop transport, parachute drop, medical evacuation, and glider towing. The single prototype first flew on September 10, 1944. The aircraft were built at the Fairchild factory in Hagerstown, Maryland, with deliveries beginning in late 1945 and ending in September 1948.
Below is a list of some of the C-82 Packets that survived military service, more will be added as time permits..
---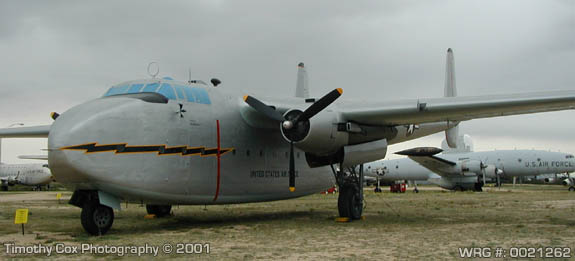 C-82 Packet/44-23006 at the Pima Air & Space museum in 2001.
---
WARBIRD REGISTRY
>
PACKET REGISTRY
>
PREVIOUS PAGE
---