---
WARBIRD REGISTRY
>
PACKET REGISTRY
>
PREVIOUS PAGE
---
C-82 PACKET/44-23036
---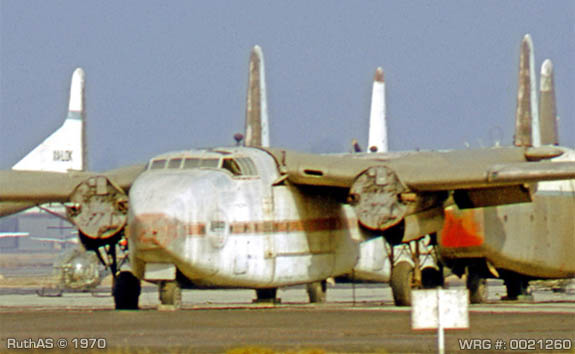 ---
Serial #: 44-23036
Construction #: 10080
Civil Registration:
N53228

Model(s):
C-82A Packet
Name: None
Status: Scrapped
Last info: 1970

---
History:
Delivered to USAAF as 44-23036, 19??.
Fairchild Aircraft, Hagerstown, MD, 1954.
- Registered as N53228.
- Used in flight testing of the Fairchild J44 jet pak.
USAF National Defense, MD, 1957.
New Frontier Airlift Corp, Phoenix, AZ, circa 1957-1969.
- Fuselage used to film cockpit scenes for the movie
The Flight of the Phoenix
.
- Marked with fictional Arabco Oil Co Logo.
- Reassembled at Long Beach, CA and place in open storage, 1967-1969.
- Stored in derelict condition and eventually scrapped, Long Beach, CA, circa 1970.
---
---
WARBIRD REGISTRY
>
PACKET REGISTRY
>
PREVIOUS PAGE
---