---
WARBIRD REGISTRY
>
HELICOPTER REGISTRY
>
AH-1 COBRA
>
PREVIOUS PAGE
---
AH-1 Cobra/83-24197
---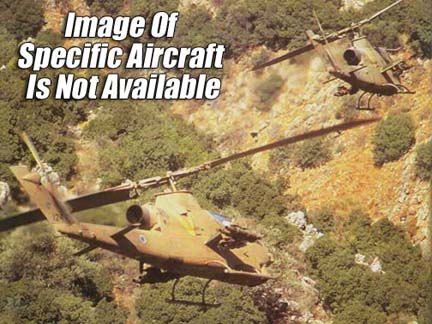 ---
Serial #: 83-24197
Construction #: -
Civil Registration:
N197LE

Model(s):
AH-1F Cobra
Name: None
Status: Crashed
Last info: 2012

---
History:
Delivered to U.S. Army as 83-24197, 19??
Army Aviation Heritage Foundation And Museum Inc
, Hampton, GA, 2006-2014
- Registered as N197LE
- Crashed and destroyed, Coolidge, AZ, March 1, 2012. (See Below)
---
NTSB Identification: WPR12LA107
14 CFR Part 91: General Aviation
Accident occurred Thursday, March 01, 2012 in Coolidge, AZ
Aircraft: BELL AH-1F, registration: N197LE
Injuries: 2 Minor.
This is preliminary information, subject to change, and may contain errors. Any errors in this report will be corrected when the final report has been completed. NTSB investigators may not have traveled in support of this investigation and used data provided by various sources to prepare this aircraft accident report.
On March 01, 2012, at 1220 mountain standard time, N197LE, an experimental exhibition Bell AH-1F helicopter experienced a flight control malfunction while maneuvering and impacted the ground at Coolidge Municipal Airport (P08), Coolidge, Arizona. The helicopter was operated by the Army Aviation Heritage Foundation and Museum Inc. under the provisions of 14 Code of Federal Regulations Part 91. The pilot and mechanic received minor injuries; the helicopter sustained substantial damage. Visual meteorological conditions prevailed for the local area flight that departed P08 at an undetermined time.
According to the pilot, the purpose of the flight was to film a segment for the Korean Top Gear television series. He performed a preflight of the helicopter, and coordinated with his ground crew as well as the film crew as to the day's activities. The first filming sequence lasted approximately 10 minutes and included helicopter fly-bys.
The pilot stated that the next filming sequence, when the accident occurred, was to consist of a racing sequence with a Corvette. At 1205, they began a practice run/filming sequence that terminated at the start/finish line. The pilot initiated a right 150 to 180 degree turn reaching about 200 feet above the ground. He was attempting to neutralize the controls in preparation for a normal approach for landing when he realized the controls were "locked and unmovable in any direction." The pilot stated that the helicopter remained in the same rate of turn with the same collective pitch and cyclic input as when he had initiated the turn. The helicopter maintained the same arc through the turn and descent until it impacted the ground. The pilot further stated that he was reaching to activate the emergency hydraulic switch at impact.
Airworthiness inspectors from the Federal Aviation Administration responded to the site, and reported no obvious mechanical failures. The investigation is on-going.

---
---
WARBIRD REGISTRY
>
HELICOPTER REGISTRY
>
AH-1 COBRA
>
PREVIOUS PAGE
---