---
WARBIRD REGISTRY
>
TRACKER/TRADER/TRACER REGISTRY
>
PREVIOUS PAGE
---
TRADER/BU. 146044
---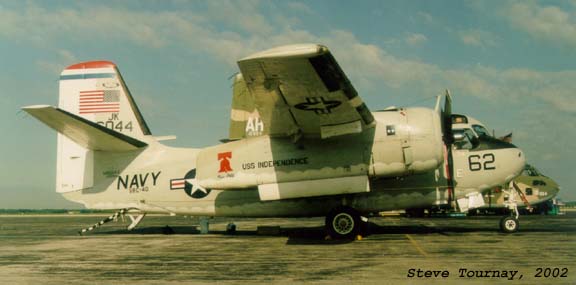 ---
Bureau #: 146044
Construction #: ?
Civil Registration:
N189G

Model(s):
C-1A Trader
Name: None
Status: Airworthy
Last info: 2016

---
History:
Delivered to U.S. Navy as Bu. 146044, 19??.
Doug Goss/Trader Air Inc
, Topeka, KS, 1999-2016.
- Registered as N189G.
- Operated with Warbirds of America Squadron 14, Topeka, KS.
- Gear-Up landing in corn field, Roseville, IL August 18, 2002.
Starboard engine exploded in flight.
- Restored to airworthy condition.
---
NTSB Identification: CHI02LA254.
14 CFR Part 91: General Aviation
Accident occurred Sunday, August 18, 2002 in Roseville, IL
Probable Cause Approval Date: 11/25/2003
Aircraft: Grumman C-1A, registration: N189G
Injuries: 3 Uninjured.
While in cruise flight, the number one cylinder separated from the right engine, resulting in a total loss of engine power. The pilot was unable to feather the right propeller because both electrical propeller control systems were compromised when the cylinder separated from the engine. The pilot performed a gear-up forced landing into a cornfield.
The National Transportation Safety Board determines the probable cause(s) of this accident as follows:
The failure and the resulting separation of the engine cylinder, which severed both electrical propeller control systems on the affected engine. A factor to the accident was the cornfield.
---
---
WARBIRD REGISTRY
>
TRACKER/TRADER/TRACER REGISTRY
>
PREVIOUS PAGE
---