S-2 TRACKER/Bu. 136508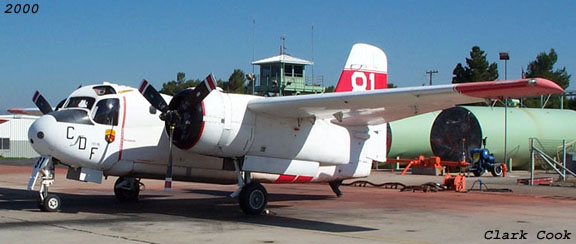 Bureau #: 136508
Construction #: 417
Civil Registration:
N447DF
N508JR

Model(s):
S2F-1 Tracker
TS-2A Tracker
Name: None
Status: Unknown
Last info: 2020

History:
Delivered to United States Navy as Bu. 136508, 19??.
Private Owner, September 13, 1974.
California Department of Forestry & Fire Protection (CALFIRE), McClellan AFB, Sacramento, CA, September 13, 1973-1976.
Flown as tanker #93.
Operated by Sis-Q Flying Service, Santa Rosa, CA, 1975-1977.
USDA Forest Service, McClellan, CA, March 1976-July 1, 2009.
Flown as tanker #81 (later #95).
Operated by Hemet Valley Flying Service, Hemet, CA, 1986-1993.
Operated by Serv-Air Inc, Rancho Cordova, CA, 1994-1995.
Operated by San Joaquin Air, Delano, CA, 1998.
Specline Inc, Carson City, NV, July 9, 2009.
Cactus Air Force, Carson City, NV, September 25, 2017.
Based at Cactus Air Force Wings and Wheels Museum, Carson City, NV.
William Garrison
, Nickerson, KS, February 14, 2019-2020.