---
WARBIRD REGISTRY
>
TEXAN/SNJ/HARVARD REGISTRY
>
PREVIOUS PAGE
---
TEXAN/51-14794
---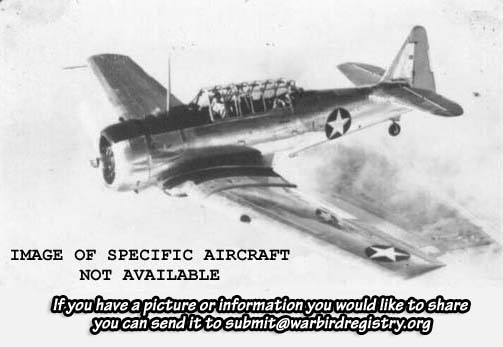 ---
Serial #: 51-14794
Construction #:
182-481
Civil Registration:
None

Model:
T-6G Texan
Name: None
Status: Unknown
Last info: 1984

---
History:
Delivered to L'Armee de L'Air as 14794, 19??.
Impounded Lisbon, Portugal en route to Biafran Air Force, last reported there, 1967.
Stored Tires Aerodrome, Portugal, 1969.
Stored Cascais, Portugal, 1984.
Museo do Ar, Sintra AB, Portugal, 19??.
Reported to be rear fuselage only.
---
Source(s):
Chapman, John & Goodall, Geoff, Edited by Paul Coggan - Warbirds Directory,Warbirds Worldwide Ltd., Mansfield, England, 1989.
Goodall, Geoff - Warbirds Directory-4th Edition, 2003.
Federal Aviation Administration, www.faa.gov, Washington D.C., 2005.
Photo Source(s):
None.

---
WARBIRD REGISTRY
>
TEXAN/SNJ/HARVARD REGISTRY
>
PREVIOUS PAGE
---