---
WARBIRD REGISTRY
>
TEXAN/SNJ/HARVARD REGISTRY
>
PREVIOUS PAGE
---
TEXAN/49-3449
---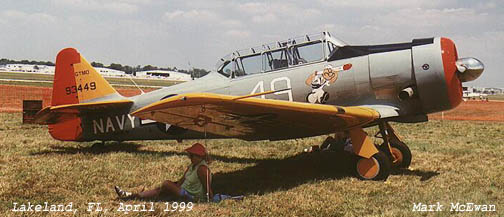 ---
Serial #: 49-3449
Construction #:
168-583
Civil Registration:
N29931

Model:
T-6G Texan
Name: None
Status (2007): Airworthy
Last info: 2008

---
History:
Delivered to Ejercito del Aire as C.6-197 (later E.16-197), 19??.
- Coded as 442-49.
Combat Aircraft Inc, Elkhart, IN, May 20, 1982.
- Registered as N29931.
- Damaged on takeoff, Dixon, IL, July 4, 1985.
BOA Ltd, Chicago, IL, 1986.
Classic Air Parts, Miami, FL, July 1991-1995.
- Flew as race #51/"Yabba Daba Doo".
- Damaged after crashing during emergency landing, Reno, NV, September 11, 1991.
-- Ses below.
John J. Johnson, Palmer, AK, 1995-2001.
- Rebuilt to airworthy, first flight circa 1997.
- Flew as USAF/49-3449.
Jim W. Jatho
, Augusta, GA, December 2001-2008.
---
NTSB Identification: LAX91LA392 .
14 CFR Part 91: General Aviation
Accident occurred Wednesday, September 11, 1991 in RENO, NV
Probable Cause Approval Date: 3/31/1993
Aircraft: NORTH AMERICAN AT-6G, registration: N29931
Injuries: 1 Minor.
The aircraft was flying the Reno air race course during trials. The aircraft was on the race course and seemed to enter a turn at one of the pylons at a lower than normal altitude. The left wing contacted the ground. The pilot was able to recover the aircraft to level flight and made a left base entry to runway 18. As the aircraft turned from base to final, it continued to bank to the left until the left wing contracted the ground and the aircraft cart wheeled. About three feet of the left aileron was found at the pylon where the first wing contact occurred. The pilot said that the aileron controls were jammed and he could only control the aircraft in roll by use of the rudder and power changes. As the aircraft turned final for the runway, the pilot said he reduced power however, he could not get the aircraft to respond fast enough and the left wing tip contacted the ground.
The National Transportation Safety Board determines the probable cause(s) of this accident as follows:
The failure of the pilot to maintain an adequate clearance between the aircraft and the ground while maneuvering around a pylon, which resulted in a loss of control during landing.

---
Source(s):
Chapman, John & Goodall, Geoff, Edited by Paul Coggan - Warbirds Directory,Warbirds Worldwide Ltd., Mansfield, England, 1989.
Goodall, Geoff - Warbirds Directory-4th Edition, 2003.
Federal Aviation Administration, www.faa.gov, 2007.
National Transportation Safety Board/NTSB

Photo Source(s):
Mark McEwan.


---

Research Assistance:
-

---
WARBIRD REGISTRY
>
TEXAN/SNJ/HARVARD REGISTRY
>
PREVIOUS PAGE
---