---
WARBIRD REGISTRY
>
TEXAN/SNJ/HARVARD REGISTRY
>
PREVIOUS PAGE
---
TEXAN/41-48884
---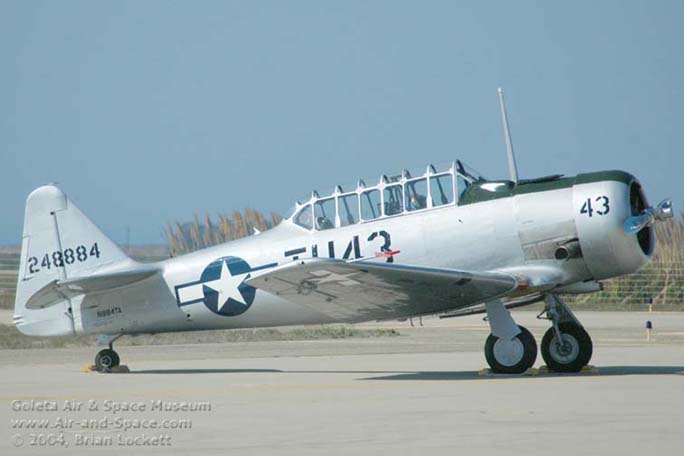 ---
Serial #:
AT-6C: 41-48884
T-6G: 49-3190
Construction #:
AT-6C: Unknown
T-6G: 168-294
Civil Registration:
N8399H
N884TA

Model(s):
AT-6C Texan
T-6G Texan
Name: None
Status: Displayed?
Last info: 2010

---
History:
Delivered to USAAC as 41-48884, 19??.
Assigned to the Tuskegee Army Airfield, March 1943.
Rebuilt by NAA, Downey, CA as T-6G/49-3190.
Redelivered to USAF, January 1951.
Moved to Davis Monthan AFB for storage and disposal, January 18, 1956.
Aero Enterprises Inc, Elkhart, IN, 1963-1964.
Cloud Modification Service, Minot, ND, 1966-1969.
Woods Aviation Inc, East Prairie, MO, 1976-1977.
Gordon Swenson, Rake, IA, November 1979-1997.
Steven Cowell, Denver, CO, July 5, 1997-2002.
Registered as N884TA, May 1999.
Damaged in accident, Longmont, CO, July 5, 1998.
Since 2001 flown as USAF 248884/TU43.
Veeone Rotate LLC, Denver, CA, February 17, 2005.
Lucinda Novotby, Smyrna, DE, 2004-2010.
Loaned to EAA AirVenture Museum, Oshkosh, WI for display.
Tuskegee Airmen National Museum
, Detroit, MI, September 28, 2010.
---
Source(s):
Chapman, John & Goodall, Geoff, Edited by Paul Coggan - Warbirds Directory,Warbirds Worldwide Ltd., Mansfield, England, 1989.
Goodall, Geoff - Warbirds Directory-4th Edition, 2003.
Federal Aviation Administration.
Brian R Smith
Photo Source(s):
Brian Lockett - Goleta Air & Space Museum, 2005.

---
WARBIRD REGISTRY
>
TEXAN/SNJ/HARVARD REGISTRY
>
PREVIOUS PAGE
---