---
WARBIRD REGISTRY
>
TEXAN/SNJ/HARVARD REGISTRY
>
PREVIOUS PAGE
---
TEXAN/49-3170
---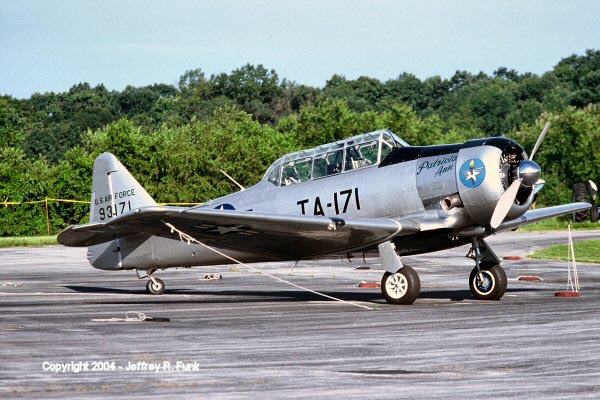 ---
Serial #: 49-3171
Construction #:
168-275
Civil Registration:
N9043Z
N36912
N171WM

Model:
T-6G Texan
Name: Laurie Ann/Patricia Ann
Status: Airworthy
Last info: 2004

---
History:
Charles H. Van Dorsten, Battle Creek, MI, 1963-1966.
- Registered as N9043Z.
Edwin H. Staehling, Ann Arbor, MI, 1969.
George M. Staehling, Woodstock, IL, 1976.
Louis E. Antonacci, Hampshire, IL, February 1986-1988.
- Registered as N36913.
William Melamed, Los Angeles, CA, 1988.
- Registered as N171WM, July 1988.
Ed Shipley, Malvern, CA, 1992-1995.
- Reregistered as N36913.
Laurie A. Shipley, Malvern, PA, February 1995.
AVPAT Ltd
, Wilmington, DE, March 3, 1999-2004.
- Flown as
Laurie Ann
.
- Reported to have
Patricia Ann
on starboard side, not known if the name changed or both names are present, 2004.
---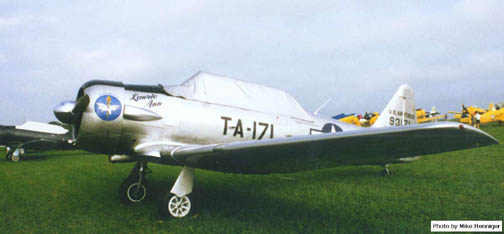 ---

---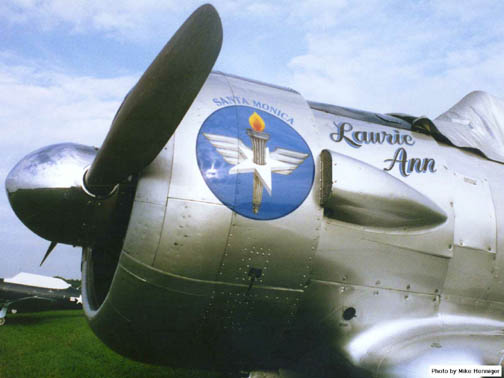 ---
Source(s):
Chapman, John & Goodall, Geoff, Edited by Paul Coggan - Warbirds Directory,Warbirds Worldwide Ltd., Mansfield, England, 1989.
Goodall, Geoff - Warbirds Directory-4th Edition, 2003.
Federal Aviation Administration.

Photo Source(s):
Jeffrey R. Funk.
Mike R. Henniger.


---

Research Assistance:
-

---
WARBIRD REGISTRY
>
TEXAN/SNJ/HARVARD REGISTRY
>
PREVIOUS PAGE
---