TEXAN/49-3085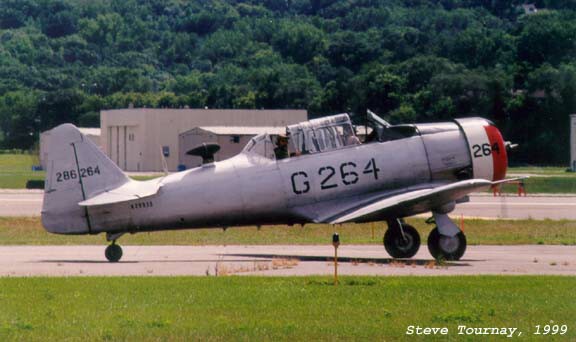 Serial #: 49-3085
Construction #: 168-189
Civil Registration:
N29935

Model(s):
AT-6D Texan
T-6G Texan
Name: None
Status: Airworthy (2002)
Last info: 2022

History:
Delivered to United States Army Air Force as AT-6D/4?-?????, 19??.
Converted to T-6G and issued serial number 49-3085 (CN: 168-189)
Delivered to to Ejercito del Aire as C.6-175, 19??.
Combat Aircraft Inc, Elkhart, IN, May 20, 1982.
R. L. Knisely/Radial Runners
, Silver Lake, MN, 1986-2022.
Damaged in landing accident, May 03, 1988.
Repaired, flown as United States Army Air Force/4286264.
---
NTSB Identification: CHI88LA106 . The docket is stored on NTSB microfiche number 36104. accident occurred Tuesday, May 03, 1988 at EDEN PRAIRIE, MN
Aircraft:NORTH AMERICAN AT-6D, registration: N29935
Injuries: 2 Uninjured.


WHILE ON AN AIRCRAFT FAMILIARIZATION FOR PURPOSE OF CHECK OUT, THE PILOT ENCOUNTERED A GUSTY CROSSWIND ON LANDING AND FAILED TO MAINTAIN AIRCRAFT CONTROL. THE INSTRUCTOR PILOT TOOK OVER THE CONTROLS, BUT WAS UNABLE TO REGAIN DIRECTIONAL CONTROL, AND THE AIRCRAFT LEFT THE RUNWAY. THE PILOT ADDED POWER, BUT THE LEFT WING STRUCK A CONCRETE CULVERT, SWINGING THE AIRCRAFT AROUND TO THE LEFT. THE AIRCRAFT SKIDDED ACROSS THE EMBANKMENT, STRIKING THE PROPELLER ON THE GROUND, SHEARING THE RIGHT MAIN GEAR OFF, AND COLLAPSING THE LEFT MAIN GEAR. The National Transportation Safety Board determines the probable cause(s) of this accident as follows: DIRECTIONAL CONTROL..NOT MAINTAINED..DUAL STUDENT
SUPERVISION..INADEQUATE..PILOT IN COMMAND(CFI)

Source(s):
Chapman, John & Goodall, Geoff - Editted by Paul Coggan -
Warbirds Directory
,Warbirds Worldwide Ltd., Manfield, England, 1989.
NTSB
, www.ntsb.gov
Goodall, Geoff -
Warbirds Directory-4th Edition
, 2003.
Federal Aviation Administration.
Goodall, Geoff -
Warbirds Directory-6th Edition
, 2020.
Flightaware.
Photo Source(s):
Steve Tournay, 1999.

---
Research Assistance:
-