---
WARBIRD REGISTRY
>
TEXAN/SNJ/HARVARD REGISTRY
>
PREVIOUS PAGE
---
TEXAN/49-2987
---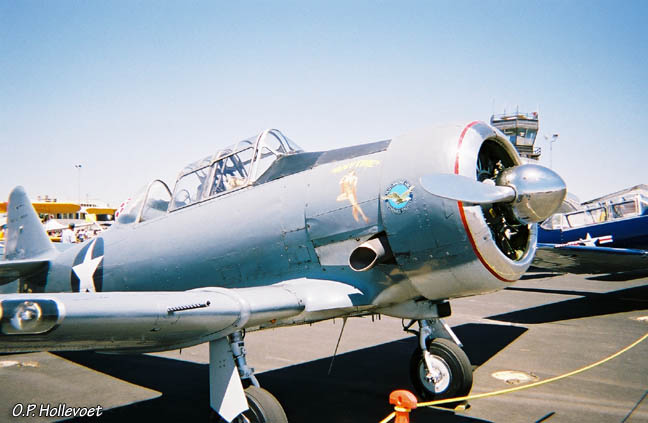 ---
Serial #: 49-2987
Construction #:
168-91
Civil Registration:
N2757G

Model:
T-6G Texan
Name: None
Status: Crashed
Last info: 1999

---
History:
Delivered to Ejercito del Aire as E.16-???, 19??.
Registered as N2757G by ???, August 1982.
Carl Schmeider, Phoenix, AZ, May 1984-1999.
- Crashed and destroyed (see below), Deer Valley, AZ, January 23, 1999.
- Schmeider fatally injured.
---
NTSB Identification: LAX99FA080 .
Accident occurred Saturday, January 23, 1999 in NEW RIVER, AZ
Probable Cause Approval Date: 7/122000
Aircraft: North American T-6G-NA, registration: N2757G
Injuries: 2 Fatal.
While performing aerobatics between 3,000 and 4,000 feet agl, the airplane impacted terrain. According to a second airplane pilot, who was in loose trail behind the accident aircraft, the maneuvers that were briefed by the accident pilot included, climbs, dives, turns, barrel rolls and loops. The second pilot said the accident aircraft began a high G pull-up. At the top of the climb, the aircraft nosed over and began a slight left turn. The left turn became a hard left that turned into a partial snap roll with a resulting spin to the left. About 3 to 4 turns had been observed when the aircraft began to recover. However, during the recovery, it struck the ground in a near level attitude and burst into flames. Winds were light and the sky was clear. Remains of rear control stick were not found in the female attachment fitting. The aircraft's POH states that the aircraft will lose 500 feet of altitude for each full spin rotation. Postaccident examination did not disclose any evidence of mechanical malfunction.
The National Transportation Safety Board determines the probable cause(s) of this accident as follows:
The pilot's delayed recovery after an intentional stall/spin of 3 to 4 rotations. A factor was the pilot's inadequate entry altitude for the intended maneuver.

---
Source(s):
Chapman, John & Goodall, Geoff, Edited by Paul Coggan - Warbirds Directory,Warbirds Worldwide Ltd., Mansfield, England, 1989.
Goodall, Geoff - Warbirds Directory-4th Edition, 2003.
National Transportation Safety Board/NTSB

Photo Source(s):
Roger Cain


---

Research Assistance:
-

---
WARBIRD REGISTRY
>
TEXAN/SNJ/HARVARD REGISTRY
>
PREVIOUS PAGE
---