---
WARBIRD REGISTRY
>
TEXAN/SNJ/HARVARD REGISTRY
>
PREVIOUS PAGE
---
TEXAN/42-84443
---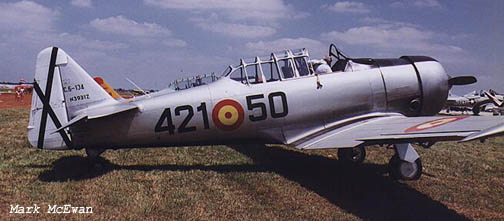 ---
Serial #: 42-84443
Construction #:
88-16224
Civil Registration:
N3931Z

Model(s):
AT-6D Texan
SNJ-5
Name: None
Status: Airworthy
Last info: 2002

---
History:
Delivered to USN as SNJ-5/Bu. 43942, 19??.
Delivered to Ejercito del Aire as C.6-134, 19??.
Combat Aircraft Inc, Elkhart, IN, May 13, 1983.
- Registered as N3931Z.
Richard D. Ervin, Indianapolis, IN, 1984.
Ronald J. Kuhny, Hinsdale, IL, March 1985-2002.
- Flown as C.6-134/421-50 in Spainish AF scheme.
---
Source(s):
Chapman, John & Goodall, Geoff, Edited by Paul Coggan - Warbirds Directory,Warbirds Worldwide Ltd., Mansfield, England, 1989.
Goodall, Geoff - Warbirds Directory-4th Edition, 2003.
Photo Source(s):
Mark McEwan.

---
WARBIRD REGISTRY
>
TEXAN/SNJ/HARVARD REGISTRY
>
PREVIOUS PAGE
---