---
WARBIRD REGISTRY
>
TEXAN/SNJ/HARVARD REGISTRY
>
PREVIOUS PAGE
---
SNJ-2/Bu. 2027
---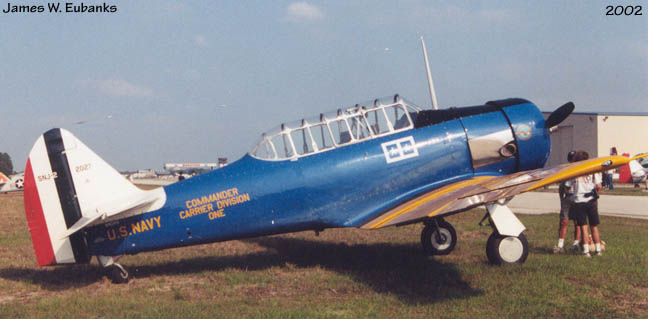 ---
Bureau #: 2027
Construction #:
65-2016
Civil Registration:
N40HS

Model(s):
SNJ-2
Name: None
Status: Airworthy
Last info: 2002

---
History:
Aero Enterprises Inc, Elkhart, IN, 1963-1964.
- Registered as N63641.
Dell L. Shady, Huntsville, AL, 1966-1984.
- Registered as N2137E.
Reported in open storage in derelict condition, Huntsville, AL, 1972-1982.
Re-added to U.S. Civil Register, August 1990.
Hangar 6 Inc, Cincinatti-Lunkin Airport, OH, July 1991-1992.
- Registered as N40HS.
Neal T. Schaefer/SSS Inc, Cincinatti, OH, September 1992-1995.
- Restored to airworthy, first flight 1993.
- Flew as USN2027.
Bill Spurling, Evansville, IN, February 5, 1996-2002.
---
Source(s):
Chapman, John & Goodall, Geoff, Edited by Paul Coggan - Warbirds Directory,Warbirds Worldwide Ltd., Mansfield, England, 1989.
Goodall, Geoff - Warbirds Directory-4th Edition, 2003.
Photo Source(s):
James W. Eubanks.

---
WARBIRD REGISTRY
>
TEXAN/SNJ/HARVARD REGISTRY
>
PREVIOUS PAGE
---