---
WARBIRD REGISTRY
>
TEXAN/SNJ/HARVARD REGISTRY
>
PREVIOUS PAGE
---
SNJ-4/Bu. 27536
---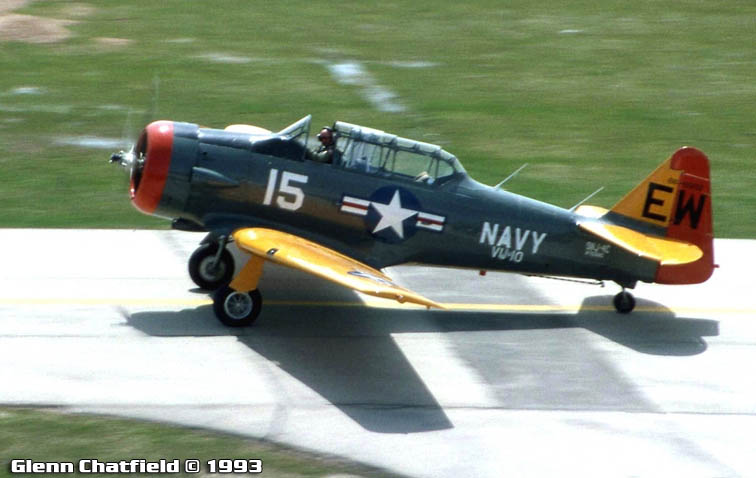 ---
Bureau #: 27536
Construction #:
88-12932
Civil Registration:
N7038C

Model(s):
SNJ-4
Name: None
Status (2007): Airworthy
Last info: 2008

---
History:
Choteau Flying Service, Choteau, MT, 1963-1964
- Registered as N7038C.
Gordon Slusser, Richvale, CA, 1966
James W. Wirtz, Gridley, CA, 1969-1970
- Flew as race #43/Midnight Miss
(See picture below)
Dimitry V. Prian, Long Beach, CA, 1976-1977
- Collided with
Texan/49-3430/N74DW
at pylon turn during race, Reno-Stead, NV, September 16, 1978
Dennis G. Buehn, Reno, NV, 1984-1986
- Rebuilt.
Edward H. Wachs, Waukegan, IL, August 1, 1990-2002
Sold by Courtesy Aircraft Sales to ????, 2005
Monkey Air LLC, el Dorado Hills, CA, April 9, 2007-2008.
---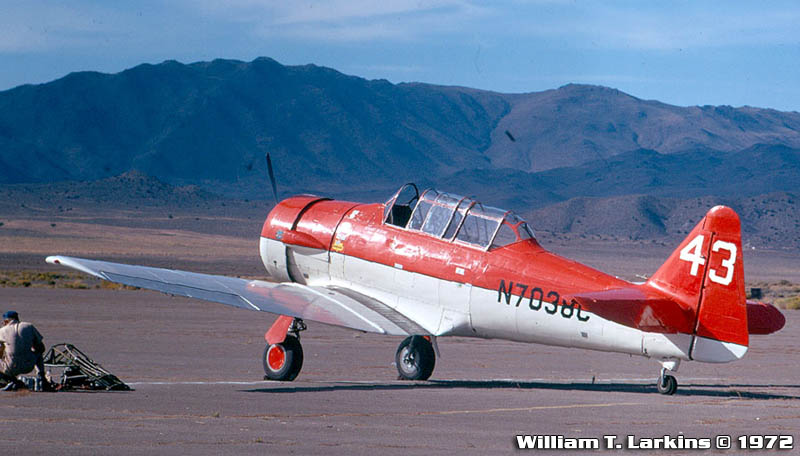 ---
Source(s):
Chapman, John & Goodall, Geoff, Edited by Paul Coggan - Warbirds Directory,Warbirds Worldwide Ltd., Mansfield, England, 1989.
Goodall, Geoff - Warbirds Directory-4th Edition, 2003.
Federal Aviation Administration, www.faa.gov, 2008.

Photo Source(s):
Glenn Chatfield
William T. Larkins


---

Research Assistance:
-

---
WARBIRD REGISTRY
>
TEXAN/SNJ/HARVARD REGISTRY
>
PREVIOUS PAGE
---