---
WARBIRD REGISTRY
>
TEXAN/SNJ/HARVARD REGISTRY
>
PREVIOUS PAGE
---
SNJ-5/Bu. 52022
---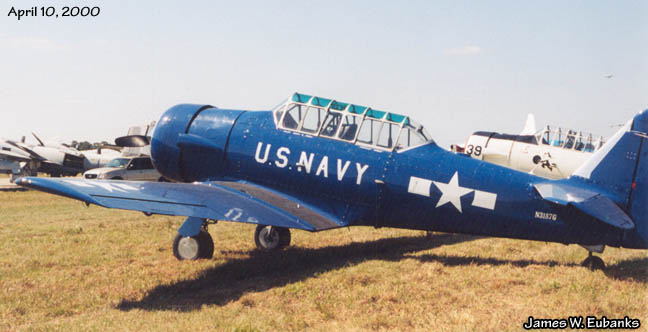 ---
Bureau #: 52022
Construction #:
88-15235
Civil Registration:
N3187G

Model(s):
SNJ-5
Name: None
Status: Crashed
Last info: 2000

---
History:
Will F. Sovereign, Bay City, MI, 1963-1970.
- Registered as N3187G.
V. S. Sloan, Greer, SC, 1984.
John H. Shell, Morganton, SC, 1986-1995.
Keith E. Shell, Morganton, SC, June 9, 1995-2000.
- Crashed and destroyed, Elk Park, NC, April 28, 2000.
---
NTSB Identification: MIA00FA141.
Accident occurred Friday, April 28, 2000 in ELK PARK, NC
Probable Cause Approval Date: 05/18/2001
Aircraft: North American SNJ-5, registration: N3187G
Injuries: 2 Fatal.
NTSB investigators either traveled in support of this investigation or conducted a significant amount of investigative work without any travel, and used data obtained from various sources to prepare this aircraft accident report.
Recorded radar data showed the flight was in cruise at 8,000 feet, at an average speed of about 140 knots, when it descended to 7,700 feet and turned from a northwesterly to a westerly heading. The pilot was responding to an ATC request to verify clearance at this time. The flight then turned to a northerly heading and climbed to 8,100 feet. The flight then turned to southeasterly heading and descended to 7,500 feet. Radar contact was lost for about 30 seconds. When radar contact was reestablished the flight was at 5,300 feet on a northeasterly heading. The airplane continued on a northeasterly heading and climbed to 5,500 feet. Radar contact was then lost at 1611:25, at a position 1 mile east of the crash site, which was on the side of a mountain. The first 911 call about the accident was at 1612:02. A witness reported hearing the airplane flying to the north and the engine start to cut out. The engine continued to rev up and cut out and the airplane sounded like it had turned toward the south. He then heard the engine rev up to high power, cut off, followed by the sound of the crash. The witness stated the weather at the crash site was overcast clouds at the treetops, with visibility 1.5 miles. Post crash examination of the aircraft structure, flight controls, vacuum system, engine, and propeller showed no evidence of precrash failure or malfunction. The propeller had bending and twisting consistent with high engine power at the time of ground impact. The airplane was operating in an area that was forecast to have icing conditions from 9,000 to 18,000 feet. Another pilot reported encountering light icing conditions at 7,500 feet, about 16 miles northeast of the crash site, about 13 minutes before the accident. The airplane was operating in conditions conducive to serious carburetor icing at cruise power.
The National Transportation Safety Board determines the probable cause(s) of this accident to be:
The inflight loss of control for undetermined reasons resulting in the airplane colliding with mountainous terrain during the uncontrolled descent.

---
Source(s):
Chapman, John & Goodall, Geoff, Edited by Paul Coggan - Warbirds Directory,Warbirds Worldwide Ltd., Mansfield, England, 1989.
Goodall, Geoff - Warbirds Directory-4th Edition, 2003.
National Transportation Safety Board/NTSB

Photo Source(s):
James W. Eubanks.


---

Research Assistance:
-

---
WARBIRD REGISTRY
>
TEXAN/SNJ/HARVARD REGISTRY
>
PREVIOUS PAGE
---