---
WARBIRD REGISTRY
>
TEXAN/SNJ/HARVARD REGISTRY
>
PREVIOUS PAGE
---
SNJ-4/Bu. 51414
---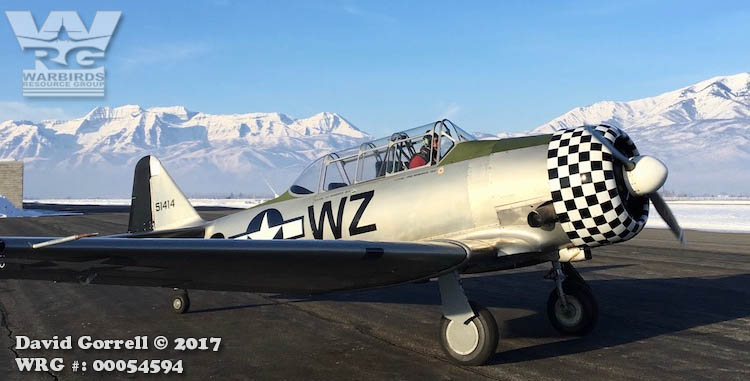 ---
Bureau #: 51414
Construction #:
88-13796
Civil Registration:
N5209V
N156
N156SG

Model(s):
SNJ-4
SNJ-5
Name: None
Status (2016): Airworthy
Last info: 2019

---
History:
Delivered to U.S. Navy as SNJ-5 as Bu. 51414.
Modified to SNJ-5 standard at the Pensacola Rebuild Facitlity (NARF), 1950.
F. B. Quinn, Van Nuys, CA/Atlanta, GA, 1963-1966
James R. Levrett, Glendale, CA 1970-1972
Leroy E. Whitehead, Carpinteria, CA, April 12, 1974-2002.
Steven Guenard, Park City UT, April 2010-2017.
Anne Guenard, Park City, UT, March 2019.
---

---
Source(s):
Chapman, John & Goodall, Geoff, Edited by Paul Coggan - Warbirds Directory,Warbirds Worldwide Ltd., Mansfield, England, 1989.
Goodall, Geoff - Warbirds Directory-4th Edition, 2003.
Federal Aviation Administration.
Joe Baugher's Serial Numbers Page

Photo Source(s):
eLaReF
David Gorrell


---

Research Assistance:
David Gorrell

---
WARBIRD REGISTRY
>
TEXAN/SNJ/HARVARD REGISTRY
>
PREVIOUS PAGE
---