---
WARBIRD REGISTRY
>
TEXAN/SNJ/HARVARD REGISTRY
>
PREVIOUS PAGE
---
HARVARD/RCAF2914
---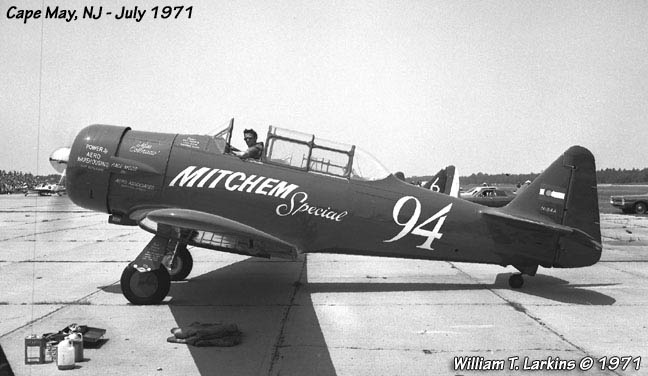 ---
Serial #: RCAF2914
Construction #:
66-2647
Civil Registration:
N7808C
N194A
N44ZZ

Model(s):
Harvard Mk. II
Name: None
Status: Crashed
Last info: 1990

---
History:
Delivered to Royal Canadian AF as 2914.
-
BOC:
February 27, 1941.
-
SOC:
September 16, 1960.
Robert V. Coffman, Littleton, CO, 1963-1964
- Registered as N7808C.
Hutton C. Smith, Salt Lake City, UT, 1966.
Aero Inc, Broomfield, CO, 1969-1972
- Registered as N194A.
- Flown as race #94.
Sky Prints Corp, St Louis, MO, 1976-1977
Red Baron Flying Service, Idaho Falls, ID, 19??
- Flown as race #44/"Miss Behavin",
John C. Mosby, Cuba, MO, 1981-1984
Alan Preston Racing Team, Dallas, TX, 1984-1986
Gifford Foley & Garson Fields/Hanover Aero International
, Nashua, NH, June 1987-1990.
- Registered as N44ZZ.
- Crashed into Lake Erie during aerobatics at airshow, Buffalo, NY, July 1, 1990.
-- Foley fatally injured.
---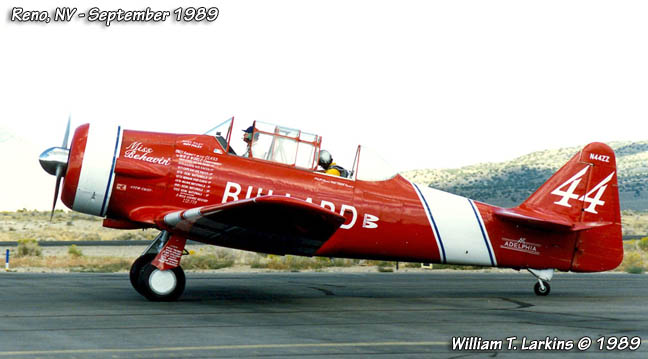 ---
NTSB Identification: NYC90LA142
14 CFR Part 91: General Aviation
Accident occurred Sunday, July 01, 1990 in BUFFALO, NY
Probable Cause Approval Date: 3/12/1993
Aircraft: NORTH AMERICAN AT-6, registration: N44ZZ
Injuries: 1 Fatal.

THE PILOT WAS PERFORMING AEROBATIC MANEUVERS IN AN AIRSHOW. THE PILOT WAS EXECUTING A ROLL WHEN AFTER 270 DEGREES OF ROLL, THE RATE DECREASED CONSIDERABLY. THE NOSE DROPPED AND THE AIRPLANE IMPACTED THE WATER IN A 40 DEGREE NOSE DOWN, 45 DEGREES RIGHT WING LOW ATTITUDE. THE PILOT WAS FOUND TO HAVE A PACKAGE OF 'CALMEX' IN HIS CLOTHING. THIS IS AN OVER THE COUNTER ANTIHISTAMINE. IN ADDITION, THE DRUG DIPHENHYDRAMINE WAS FOUND IN HIS BLOOD, LIVER, AND STOMACH. ACCORDING TO THE FAA EASTERN REGION FLIGHT SURGEON, THE DRUG COULD CAUSE SLOWED REACTION TIMES AND DROWSINESS, AND COULD AFFECT THE PILOT'S PERCEPTION OF EQUILIBRIUM.

The National Transportation Safety Board determines the probable cause(s) of this accident as follows:
LOSS OF CONTROL IN FLIGHT DUE TO PHYSICAL IMPAIRMENT. FACTORS RELATED TO THE ACCIDENT WERE: THE PILOTS USE OF AN OVER THE COUNTER ANTIHISTAMINE.

---
Source(s):
Chapman, John & Goodall, Geoff, Edited by Paul Coggan - Warbirds Directory,Warbirds Worldwide Ltd., Mansfield, England, 1989.
Goodall, Geoff - Warbirds Directory-4th Edition, 2003.
National Transportation Safety Board/NTSB

Photo Source(s):
William T. Larkins


---

Research Assistance:
-

---
WARBIRD REGISTRY
>
TEXAN/SNJ/HARVARD REGISTRY
>
PREVIOUS PAGE
---