---
WARBIRD REGISTRY
>
TEXAN/SNJ/HARVARD REGISTRY
>
PREVIOUS PAGE
---
TEXAN/42-84722
---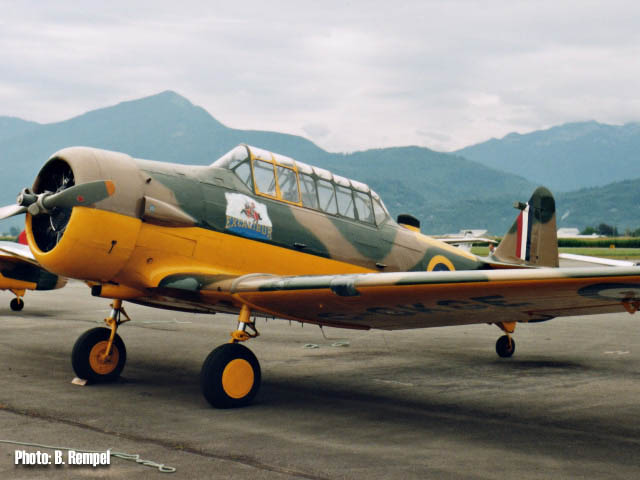 ---
Serial #: 42-84722
Construction #:
88-16503
Civil Registration:
N7982C
N2025T
C-GKGE

Model(s):
AT-6D Texan
SNJ-5
Name: None
Status: Crashed
Last info: 2004

---
History:
Delivered to USN as Bu. 84832, 19??.
Richard E. Hyde, Woodside, CA, 1963.
- Registered as N7982C.
Edward A. Grens, Burlingame, CA, 1963-1964.
Williams Flying Service, Tutwiler, MS, 1966-1977.
Registered as N2025T by ???, August 1989.
Removed from USCR, November 5, 1991.
General Air Care Ltd, Souris, Manitoba, December 1994-1995.
- Registered as C-GKGE.
Operation Fire Fly Aerial Combat, Souris, Manitoba, March 7, 1995-1999.
- Operated by Air Combat Experience, Boundary Bay, BC, 1997-1999.
Vernon Hupp/766376 Alberta Ltd, Penticton, BC, November 3, 1999-2002.
- Flew as RCAF2779.
Heavily damaged in fatal accident, Oroville, WA, June 16, 2004.
---
NTSB Identification: SEA04FA106.
The docket is stored in the Docket Management System (DMS). Please contact Public Inquiries
Accident occurred Wednesday, June 16, 2004 in Oroville, WA
Aircraft: North American SNJ 5, registration: C-GKGE
Injuries: 1 Fatal.

HISTORY OF FLIGHT
On June 16, 2004, about 1441 Pacific daylight time (PDT), a Canadian registered North American Aviation, Inc, SNJ 5 airplane, C-GKGE, sustained substantial damage after colliding with terrain approximately eight miles east of Dorothy Scott Field, Oroville, Washington. The airplane was being operated as a visual flight rules (VFR) cross-country flight under the provisions of Title 14, CFR 91, when the accident occurred. The private pilot, the sole occupant of the airplane, was fatally injured. The flight originated from Dorothy Scott Field approximately 10 minutes prior to the accident.

---
Source(s):
Chapman, John & Goodall, Geoff, Edited by Paul Coggan - Warbirds Directory,Warbirds Worldwide Ltd., Mansfield, England, 1989.
Goodall, Geoff - Warbirds Directory-4th Edition, 2003.
Transport Canada, www.tc.gc.ca/en/menu.htm, 2005.
National Transportation Safety Board/NTSB
Photo Source(s):
B. Rempel.

---
WARBIRD REGISTRY
>
TEXAN/SNJ/HARVARD REGISTRY
>
PREVIOUS PAGE
---