---
WARBIRD REGISTRY
>
TEXAN/SNJ/HARVARD REGISTRY
>
PREVIOUS PAGE
---
AT-6D TEXAN/42-84211
---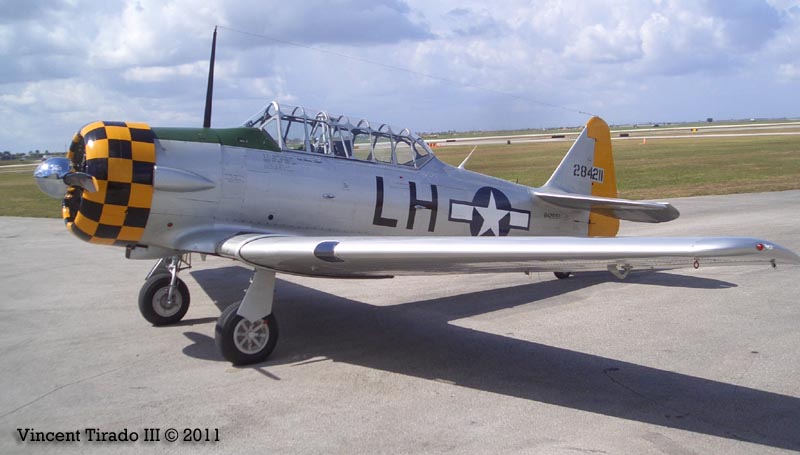 ---
Serial #: 42-84211
Construction #:
88-15992
Civil Registration:
N42897

Model(s):
AT-6D Texan
Name: None
Status: Airworthy
Last info: 2011

---
History:
Manufactured by North American, Dallas, TX.
Delivered to the USAAF as 42-84211, March 9, 1944.
– Allocated to AAF Flying Training Command, Jackson AAF, MS, March 1944.
– Transferred to 2116th AAF Base Unit (Basic Pilot School,
ATC
) Eglin AAF, Fl, July 1944.
– Transferred to 2146th AAF Base Unit
(Specialized Four Engine Pilot School,
ATC
) Smyrna AAF, TN, November 1944
– Transferred to 4185th AAF Base Unit (Air Material Command), Independence AAF KS (storage), April 1945
– Transferred to San Antonio Air Materiel Area, Kelly AFB TX, January 1948
– Transferred to 3545th Basic Pilot Training Wing (ATC), Goodfellow AFB TX, October 1948
— Deployed to Greenville AB, TX.
– Transferred to San Antonio Air Materiel Area, Kelly AFB TX, May 1953
– Transferred to Mobile Air Materiel Area, Brookley AFB AL, October 1954
– Dropped from inventory by transfer to Korea under
MDAP
, Dec 1954
Delivered To Spanish A.F. as C.6-6017.
– BOC: Dec 1954
– SOC: June 26, 1981.
– Delivered as top-deck cargo on Aircraft Carrier to Spain.
– last squadron code 421-71.
– Sold auction, Torrejon A.B. Spain, 09 Jul 1983
Lance Aircraft Supply, 1984
Texas Turbo Jet Inc Dallas TX (reg.#N42897) May 1992
- Registered as N42897.
Richard C. Slaney, Eugene OR, 26 May 1992
Mark Chambliss Tallahassee, FL, 1996
Gold Coast Warbird Adventures Inc
, Miami, FL, December 17, 1999-2010.
– 6 year restoration to airworthy, completed 2010.
– First flight since Spain, Aug 2010.
---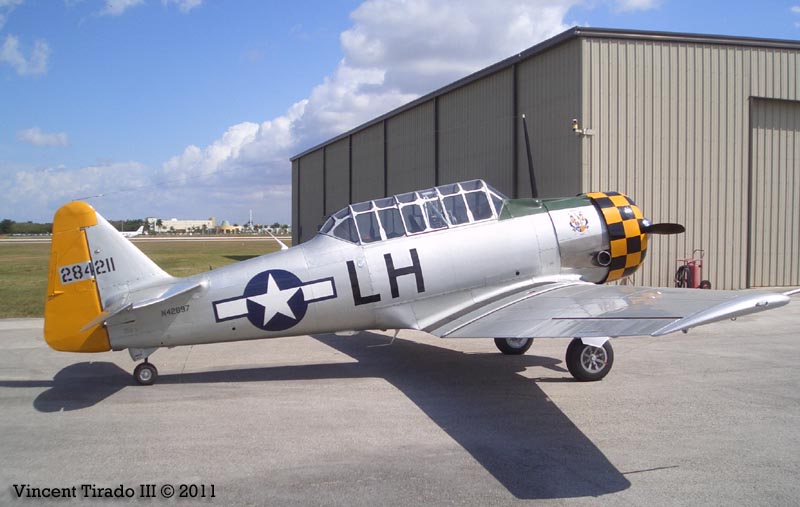 ---
Source(s):
Chapman, John & Goodall, Geoff, Edited by Paul Coggan - Warbirds Directory,Warbirds Worldwide Ltd., Mansfield, England, 1989.

Photo Source(s):
Vincent Tirado III


---

Research Assistance:
Vincent Tirado III

---
WARBIRD REGISTRY
>
TEXAN/SNJ/HARVARD REGISTRY
>
PREVIOUS PAGE
---