---
WARBIRD REGISTRY
>
MENTOR REGISTRY
>
PREVIOUS PAGE
---
T-34 MENTOR/Bu. 140676
---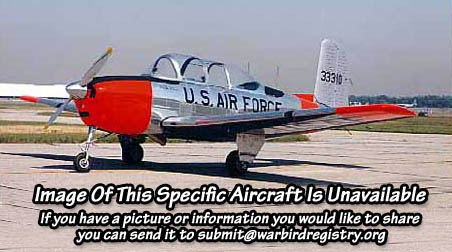 ---
Bureau #: 140676
Construction #: BG-10
Civil Registration:
N20684

Model(s):
T-34B Mentor
Name: None
Status: Crashed
Last info: 2003

Model(s):


---

History:
JAX Navy Flying Club, Jacksonville NAS, FL, Dec. 1993-2003.
- Registered as N20684.
- Crashed and destroyed, Hammond, LA, Jan. 18, 2003.

---
NTSB Identification: FTW03TA087.
Accident occurred Saturday, January 18, 2003 in Hammond, LA
Probable Cause Approval Date: 7/23/2003
Aircraft: Beech T-34B, registration: N20684
Injuries: 1 Serious.
Approximately 3 hours into the cross-country flight, the airplane experienced a total loss of engine power. The pilot attempted to restart the engine; however, the attempts were unsuccessful. Due to the night conditions, the pilot executed a forced landing to "the lightest colored area of vegatation." During the forced landing, the airplane impacted trees and the terrain, and came to rest upright. An FAA inspector, who responded to the accident site, reported that "there was no fuel in the fuel tanks," and no evidence of fuel was found at the accident site.
The National Transportation Safety Board determines the probable cause(s) of this accident as follows:
The pilot's inadequate inflight planning/decision resulting in fuel exhaustion and the loss of engine power. A contributing factor was the night light conditions.

---
---
WARBIRD REGISTRY
>
T-34 MENTOR
>
PREVIOUS PAGE
---