---
WARBIRD REGISTRY
>
MENTOR REGISTRY
>
PREVIOUS PAGE
---
T-34 MENTOR/Bu. 140669
---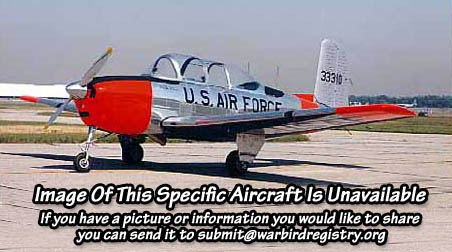 ---
Bureau #: 140669
Construction #: BG-3
Civil Registration:
N669MC

Model(s):
T-34B Mentor
Name: None
Status: Crashed
Last info: 1998

---
History:
Quantico Marine Corps Flying Club, Quantico, VA, 1993-2007.
- Registered as N669MC.
- Crashed and destroyed, Quantico, VA, Aug. 29, 1998.
---
NTSB Identification: IAD98FA103 .
Accident occurred Saturday, August 29, 1998 in QUANTICO, VA
Probable Cause Approval Date: 6/22/2000
Aircraft: Beech T-34B, registration: N669MC
Injuries: 2 Fatal.
The airplane departed on a local training flight. A flight instructor in the rear seat was checking out the front seat pilot who was new to the airplane. Witnesses reported that after the airplane became airborne, it did not climb as expected. While over the water and beyond the departure end of the runway, at an estimated altitude of 150 to 200 feet above the water, the airplane was observed to enter a shallow left turn. The bank increased, the nose dropped and the airplane struck the water. The CFI was found with his shoulder harness not connected. No evidence of pre-existing mechanical failure was found with the airframe or engine.
The National Transportation Safety Board determines the probable cause(s) of this accident as follows:
The failure of the flight instructor to maintain airspeed which resulted in an inadvertent stall/spin.
---
---
WARBIRD REGISTRY
>
T-34 MENTOR
>
PREVIOUS PAGE
---