---
WARBIRD REGISTRY
>
T-28 TROJAN REGISTRY
>
PREVIOUS PAGE
---
T-28 TROJAN/50-0290
---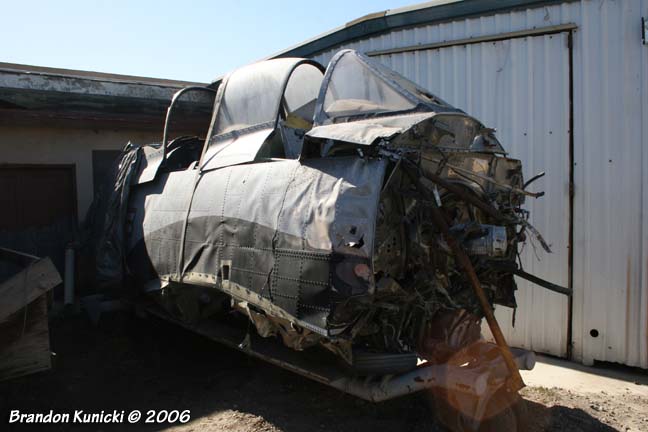 ---
Serial #: 50-0290
Construction #:
171-96
Civil Registration:
N9640C

Model(s):
T-28A Trojan
Name: None
Status: Stored
Last info: 2006

---
History:
Harry G. Thomas, Ogden, UT, 1963.
- Registered as N9640C.
Bruce & Gunn Inc, Addision, TX, 1966-1978.
Paul S. Array, Delray Beach, FL, 1984-1988.
Earl J. Schafer, Waco, TX, 1992.
Destroyed during crash landing, Rexburg, ID, August 23, 1995.
Planes Of Fame Air Museum
, Chino, CA, November 1996-2006.
- Remains stored.
---
NTSB Identification: SEA95LA192
14 CFR Part 91: General Aviation
Accident occurred Wednesday, August 23, 1995 in REXBURG, ID
Probable Cause Approval Date: 4/18/1996
Aircraft: NORTH AMERICAN T-28A, registration: N9640C
Injuries: 2 Serious.
The pilot reported that during climbout he began to smell smoke and turned back toward the airport. By the time he was headed back toward the airport, the cockpit was full of smoke. When he opened the canopy to get rid of the smoke, fire entered the cockpit, burning his face and hands. He secured the engine and dove toward a nearby field, where he made a gear-up forced landing. The airplane struck a ditch, broke apart, flipped onto its back and slid to a stop. A report of the wreckage examination described a 'suspicious failure' of the main hydraulic line, which 'appears to be of fatigue origin.' It was further noted that the aircraft hydraulic fluid is flammable, that 'the burn pattern was primarily exterior to the engine in the areas adjacent to the exhaust pipes', and that the 4.25-gallon hydraulic reservoir was empty.
The National Transportation Safety Board determines the probable cause(s) of this accident as follows:
fatigue failure of the main hydraulic line and a resulting hydraulic fluid fire. Lack of suitable terrain for the forced landing contributed to the accident.

---
Source(s):
Chapman, John & Goodall, Geoff, Edited by Paul Coggan - Warbirds Directory,Warbirds Worldwide Ltd., Mansfield, England, 1989.
Goodall, Geoff - Warbirds Directory-4th Edition, 2003.
Federal Aviation Administration, www.faa.gov, 2006.
NTSB, www.ntsb.gov

Photo Source(s):
Brandon Kunicki


---

Research Assistance:
-

---
WARBIRD REGISTRY
>
T-28 TROJAN REGISTRY
>
PREVIOUS PAGE
---