---
WARBIRD REGISTRY
>
T-28 TROJAN REGISTRY
>
PREVIOUS PAGE
---
T-28 TROJAN/49-1584
---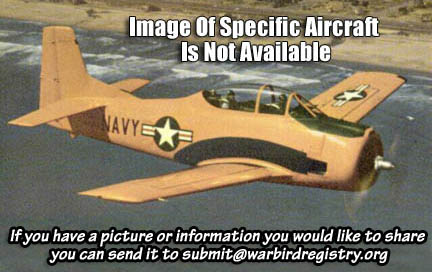 ---
Serial #: 49-1584
Construction #:
159-96
Civil Registration:
N8391H

Model(s):
T-28A Trojan
Nomad
AT-28D Trojan
Name: None
Status: Unknown
Last info: 1992

---
History:
California Airmotive, Van Nuys, CA, circa 1958.
- Registered as N9391H.
Converted to NA.260 Nomad.
Grimes Manufacturing Co, Urbania, OH, 1963.
John M. Mount, McLean, VA, 1966-1969.
Delivered to Royal Thai AF as ????, 19??.
Delivered to Royal Lao AF as 3410, 19??.
Col Pay/Pays Air Service, Scone, NSW, 1988.
- Recovered from Thong Hi Hin AB, Lao.
- Trucked overland to Bangkok.
- Shipped to Australia, December 1988.
Jack McDonald, Melbourne/Caboolture, QLD, 1988-1991.
Bruce Andrews, Melbourne, Victoria, 1991-1992.
- Arrived dismantled at Caboolture, QLD for rebuild, February 9, 1991.
---
Source(s):
Chapman, John & Goodall, Geoff, Edited by Paul Coggan - Warbirds Directory,Warbirds Worldwide Ltd., Mansfield, England, 1989.

Photo Source(s):
-


---

Research Assistance:
-

---
WARBIRD REGISTRY
>
T-28 TROJAN REGISTRY
>
PREVIOUS PAGE
---