SPITFIRE/NH904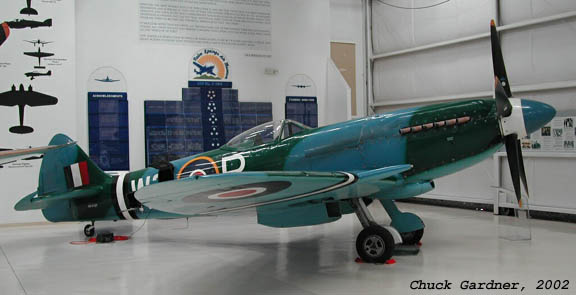 ---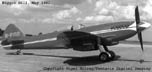 Serial #: NH904
Construction #: 6S/648206
Civil Registration:
G-FIRE
N8118J
N1148P

Model(s):
Spitfire FR Mk. XIVe
Name: None
Status: Displayed
Last info: 2020

History:
Delivered to the Royal Air Force as NH904.
Delivered to Royal Belgian Air Force as SG108, April 9, 1951.
Oscar Dewachter Scrapyard, Ostend, Belgium, 1957-1966.
Displayed on roof with wings axed off.
Bunny Brooks, Hoylake, Cheshire, UK, 1966-1968.
Fitted with wings from RM694.
Displayed at garage.
Group Captain T.G. Mahaddie, Henlow, 1968.
Stored dismantled.
Used in static scenes in movie Battle Of Britain, 1968.
Jeff Hawke, 1969.
Restoration commenced, Henlow.
Sir W.J.D. Roberts/Strathallan Collection, August 1971-1979.
Stored dismantled, Flimwell, Sussex & Strathallan.
Spencer Flack/Classic Air Displays, Elstree, January 1979-1988.
Registered as G-FIRE.
Rebuilt to airworthy.
First flight, March 14, 1981.
B.J. Stephen Grey, Duxford, 1988.
Robert Pond/Planes of Fame East, Plymouth, MN, January 1989-1991.
Robert J. Pond, Eden Prairie, MN, April 1991-1997.
Palm Springs Air Museum
, Palm Springs, CA, December 1997-2020.
Flew in movie Pearl Harbor, 2000.
Flown as RAF/W2-P.
Source(s):
Chapman, John & Goodall, Geoff, Edited by Paul Coggan - Warbirds Directory,Warbirds Worldwide Ltd., Mansfield, England, 1989.
Goodall, Geoff - Warbirds Directory-4th Edition, 2003.

Photo Source(s):
Chuck Gardner
Nigel Roling - Pentavia Digital Imaging

---
Research Assistance:
-