SPITFIRE/MK732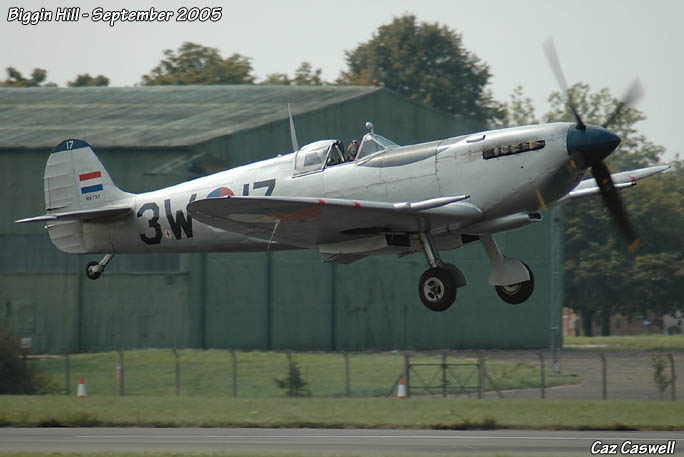 Serial #: MK732
Construction #:
CBAF.IX1732
Civil Registration:
G-HVDM
PH-OUQ

Model:
Spitfire LF Mk. IXc
Name: None
Status: Airworthy
Last info: 2005

History:
Built at Castle Bromwich, Early 1944.
Delivered to RCAF as MK732, March 1944.
Accepted by 39 MU, RAF Colerne.

Installed military equipment.

Allocated to 485 Squadron (NZ).
Delivered to RNAF as H-25 (later 3W-17).
BOC: June 24, 1947.
SOC: June 4, 1954.
Moved to Eindhoven AB for decoy use, June 30, 1954-1956.
Military equipment removed and aircraft abandoned.
RAF Oldenburg, West Germany, 1956-1957.
"Acquired" by No 14 Squadron and moved by truck to RAF Oldenburg, apparently without permission.
Restored for static display.
Presented to No. 124 Wing as a wing trophy.
Displayed as RAF Oldenburg.
RAF Aldorn, West Germany, 1957-1960.
RAF Gutersloh, West Germany, 1960-1969.
Dismantled and airfreighted to RAF Brize Norton, June 27, 1969.
Moved by road from RAF Brize Norton to RAF St. Athan.
RAF St. Athan, July 10, 1969-1970.
Stored by No. 71 MU, awaiting restoration.
RAF Bicester, December 3, 1970-1974.
Assigned instructional airframe No. 8633M.
RAF Cotishall, October 23, 1974.
Stored for use as BBMF parts source.
RAF Coninsby, 1978.
RAF St. Athan, August 1979.
RAF Abingdon, September 1980.
Stripped and parts used in rebuild of AB910.
RNAF 322 Squadron, Gilzen-Rijen AB, August 30, 1983-1986.
Arrived Schipol, April 13, 1984.
Displayed Schipol, 1984-1985.
Started restoration, November 29, 1985.
Dutch Spitfire Flight Ltd, Guernsey, 1989-1993.
Registered as G-HVDM, Jan 18, 1991.
Restored to airworthy.
First flight, Lydd, June 10, 1993.
Flew initially as H-25/MK732/Baby Bea V.
Later flown as MK732/OU-U/Baby Bea V.
50% interest sold to Dutch Government, December 8, 1993.
Dutch Government, Oct 4, 1994-1998.
Acquired remaining 50% interest from DSF.
Major damaged from landing accident August 25, 1995.
Minor Damaged from landing accident at RNLAF Volkel, May 19, 1956.
RNLAF Historical Flight/Stichting Koninklijke Luchtmacht Historiche
, Gilze-Rijen AB, October 28, 1998-2002.
Prop damaged in take-off accident, March 31, 1999.
Repainted in RNLAF colors and fitted with "clipped" wing.
Registered as PH-OUQ.
Flown as RNLAF/3W-17 in silver scheme.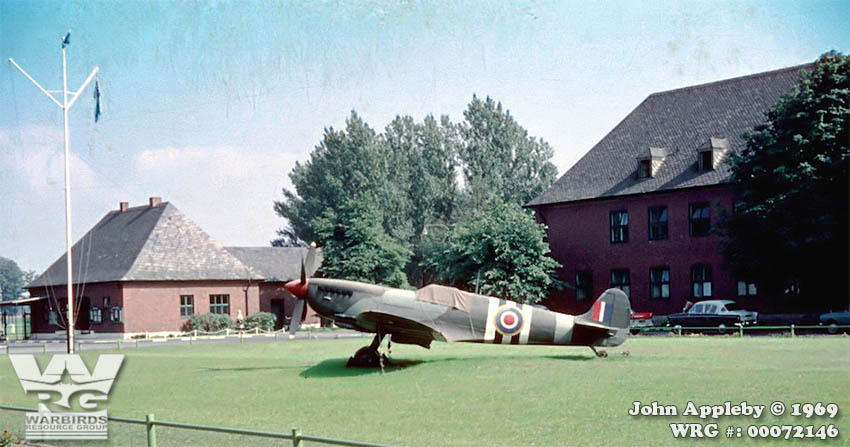 Source(s):
Chapman, John & Goodall, Geoff, Edited by Paul Coggan - Warbirds Directory,Warbirds Worldwide Ltd., Mansfield, England, 1989.
Goodall, Geoff - Warbirds Directory-4th Edition, 2003.

Photo Source(s):
Caz Caswell.
John Appleby

---
Research Assistance:
-