---
WARBIRD REGISTRY
>
SPITFIRE REGISTRY
>
PREVIOUS PAGE
---
Spitfire HF Mk. IXe/MJ730
---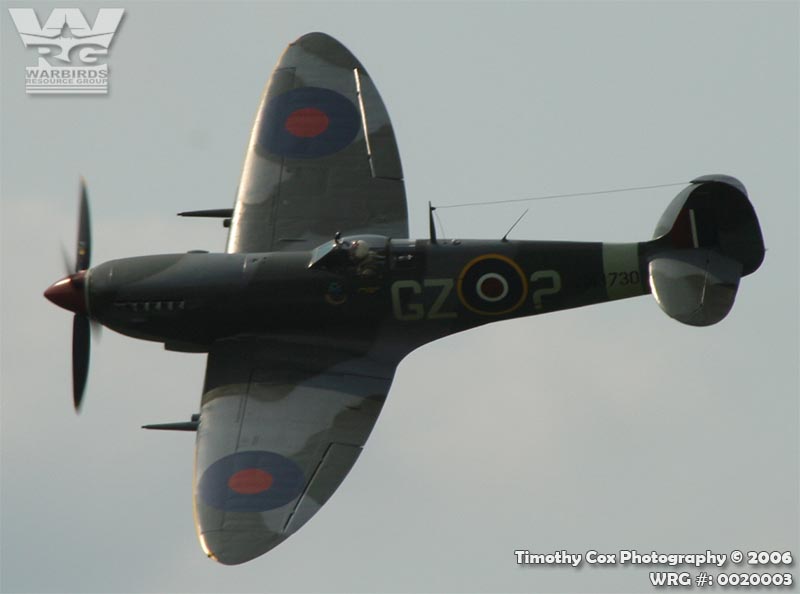 ---




---
Serial #: MJ730
Construction #:
CBAF.7243
Civilian Registration:
G-FEDX
G-BLAS
G-HFIX
N730MJ

Model:
Spitfire HF Mk. IXe
Name: None
Status: Airworthy
Last info: 2017

---
History:
Built at Castle Bromwich Factory, Brimingham, UK, 1943.
- First flight, by Alex Henshaw, December 10, 1943.
- Crated and shipped to Casablance.
Allocated to RCAF as MJ730, 19??.
- Assigned to 417 Squadron RCAF.
Allocated to RAF as MJ730, May 9, 1944.
- Assigned to 154 Squadron RAF, Corsica.
- Identifier changed to HT-W.
- Flew 95 bomber escort missions.
- Assigned to 32 Squadron RAF, Kolomaki, Greece, October 9, 1944.
-- Squadron Leader George Silvester, DFC
(see Comments)
- Assigned to 249 Squadron RAF, Yugoslavia, 1945.
- Ferried to RAF Brindisi and stored.
Delivered to Italian AF as MM4094, June 27, 1946.
- Transferred from RAF store.
- Underwent major overhaul at Aeronautica Machhi, Varese, before acceptance by Italian AF.
Transferred to IDFAF as 0606, January 21, 1955-1956.
- ID later changed to 20-66.
- Assigned to Operational Training Unit at Ramat David Airfield.
- Donated to Kibbutz Kabri, Israel for playground.
Robs Lamplough, Nailsworth, Gloscester, June 1978-1980.
- Recovered from Kibbutz Kabri, Israel.
Guy Black, October 1980-1983.
- Rebuild started.
Fred Smith/Federal Express, Memphis, TX, April 1982.
- Registration G-FEDX reserved but not taken up.
Guy Black/Aero Vintage Ltd, St. Leonards, November1983-1988.
- Registered as G-BLAS.
David W. Pennell, East Midlands, 1988-1992.
- First Flight, November 12, 1988, East Midlands.
- Registered as G-HFIX. August 22, 1989.
Jerry Yagin/Fighter Factory
, Suffolk, VA, March 23, 2000-2017.
- Registered as N730MJ.
---
Comments: This particular aircraft was selected by Squadron Leader George Silvester, as his personal plane. Before it's identifier code had been assigned, he remarked to some of his ground crew that there was "a bit of a question mark" over which identity letter to give his personal Spitfire, because as Squadron Leader, he belonged to neither 'A' Flight or 'B' Flight.
The ground crew, displaying a sense of humor, placed a large


"question mark" where the individual code letter would have normally been. Squadron Leader Silvester, amused by the gesture, left this marking in place, and from that moment on MJ730 was referred to as 'The CO's Query.' This tradition continued into the 1950's with 32 Squadron's future commanding officers continuing to also display the '?' on their Vampire jets.
---
Source(s):
Chapman, John & Goodall, Geoff, Edited by Paul Coggan - Warbirds Directory,Warbirds Worldwide Ltd., Mansfield, England, 1989.
Goodall, Geoff - Warbirds Directory-4th Edition, 2003.

Photo Source(s):
Eric Dumigan Photography
Mike Henniger.
Timothy Cox Photography


---

Research Assistance:
-

---
WARBIRD REGISTRY
>
SPITFIRE REGISTRY
>
PREVIOUS PAGE
---