Lockheed PV-2 Harpoon/Bu. 37216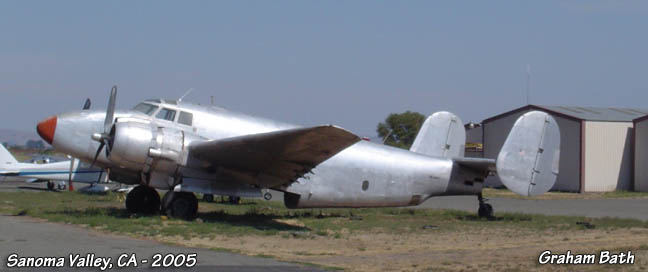 Bureau #: 37216
Construction #:
15-1182
Civil Registration:
N7256C
N10PV

Model(s):
PV-2 Harpoon
Name: None
Status: Stored
Last info: 2005

History:
Delivered to United States Navy as Bu. 37175.
Brought On Charge: N/A
Struck Off Charge: N/A
Stored, awaiting disposal, NAS Litchfield Park, AZ, January 19, 1954-1957.
Ralph S. Johnson/Master Equipment Co, Cheyenne WY, 1957/79.
Registered as N7256C.
Converted to sprayer.
Used to spray for grasshoppers.
Damaged after left gear collapsed during landing causing the aircraft to nosed over, Torrington, WY, June 24, 1977.
Ralph S. Johnson/ RALCO Inc, Cheyenne, WY, February 1979.
Westco Interservice Group, St Helens, OR, 1982-1984.
Ralph S. Johnson/ RALCO Inc, Cheyenne, WY, 1985.
Quarry Products Inc, Richmond, CA, June 1987-1992.
Earl R. Benedict, Fairfield, CA, April 29, 1995.
Earl R. Benedict, Vacaville-Nut Tree, CA, September 1995-2014.
Registered as N10PV.
Based Sonoma-Schellville, CA, 1987-2014.
Certificate of airworthiness renewed, September 15, 1995.
Retired, 2010-2014.
Castle Air Museum, Atwater, CA, June 2014-2019.
Dismantled and shipped by road.
Photo Source(s):
Graham Bath.

---
Research Assistance:
-