---
WARBIRD REGISTRY
>
PV-1 VENTURA REGISTRY
>
PREVIOUS PAGE
---
Ventura/AJ311
---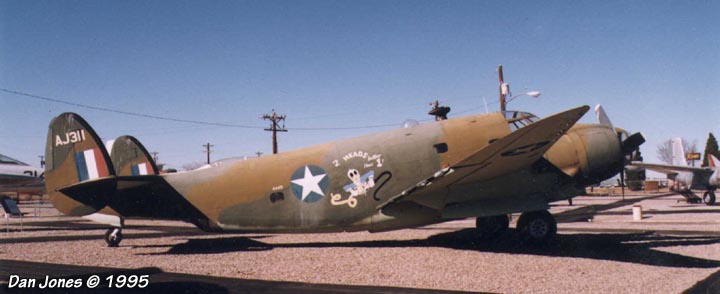 ---
Serial #: AJ311
Construction #:
4449
Civil Registration:
None
Model(s):
Ventura Mk. II
Name: None
Status: Displayed
Last info: 2002

---
History:
Built for Royal Air Force as AJ311, 19??.
Transferred to USAAF as AJ311.
-
BOC:
July 9, 1942.
-
SOC:
September 30, 1946.
- Intended for transfer to Brazilian AF as AJ311, but not delivered.
Lightning Transients Research Inc, St Paul, MN, 1965-1970.
- Used for static tests for lightning strike research.
- Stored in open, still in USAAF scheme.
USAF Museum, 1973-1976.
- Remained in St. Paul.
Fred E. Weisbrod Aircraft Museum, Pueblo, CO, 1986-2002.
- On loan from USAFM.
- Displayed as USAAF/AJ311. Correct 'Nose Art' recreated on fuselage
side reads "2 heads are better than 1"
- Inspection report has this aircraft to be a RB-37 with Wright R-2600 engines
---
---
WARBIRD REGISTRY
>
PV-1 VENTURA REGISTRY
>
PREVIOUS PAGE
---