PBV-1A/RCAF 11094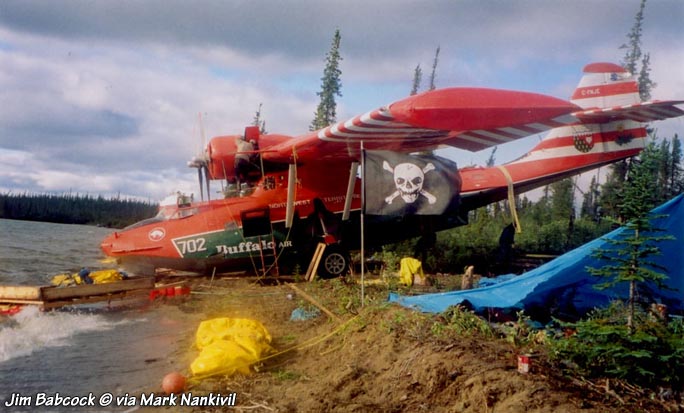 After Recovery from lake, circa 2001.
---
Serial #: RCAF11094
Construction #: CV-437
Civilian Registration:
CF-NJE
C-FNJE


Model(s):
PBV-1A
Name: None
Status: Stored?
Last info: 2002


History:
Delivered to RCAF as RCAF11094.
– BOC: June 22, 1944.
– SOC: May 25, 1961.
Canso A Crown Assets Disposal Corporation, Ottawa, Ontario, 1961.
Canspec Air Transport Ltd, Calgary Alberta, Apr. 1961.
– Registered as CF-NJE.
– Ferried from Vulcan AB to Calgary, 1961.
— Civil conversion to sprayer by Field Aviation.
— Operated by Field Aviation, Calgary, 1963-1963.
—– Used for pest control spraying.
Chiupka Airways Ltd, Lynn Lake, Manitoba, 1965-1966.
Northland Airlines, Winnipeg, Manitoba, 1968.
Midwest Airlines, Winnipeg Manitoba, 1969-1971.
Nordair Airways, Winnipeg Manitoba, Sept. 2, 1971-1972.
Ilford Riverton Airways, Winnipeg, Manitoba, 1973.
St Felicien Air Service, Roberval, Quebec, 1973-1976.
Survair Ltd, Ottawa, Ontario, 1977-1978.
– Struck rocks during water landing, Fort Chimo, Quebec, Sept. 9, 1977.
Government of Newfoundland & Labrador, St John's, Newfoundland, May 4, 1978-1996.
– Registered as C-FNJE.
– Flew as tanker #7, later #702.
Hicks & Lawrence Ltd, St Thomas, Ontario, Apr. 23, 1996.
Buffalo Airways, Yellowknife, Northwest Territories, June 4, 1996-2002.
– Flew as tanker #702.
– Crashed & sank during water pickup on a lake, July 24, 2001.
— 40km east of Inuvik, Northwest Territories, (no injuries).
– Aircraft recovered.

---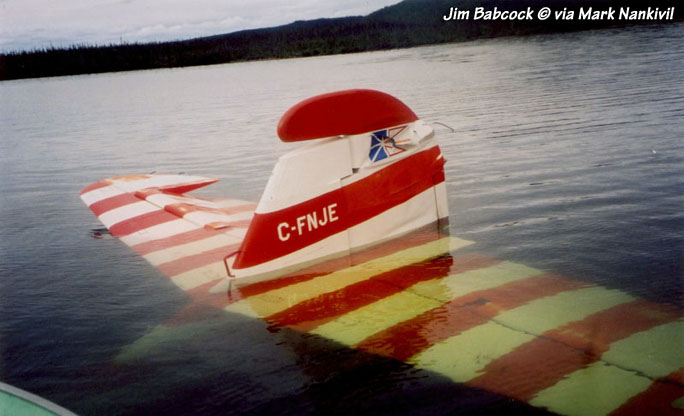 Prior to recovery lake, circa 2001.
---
Source(s):
Chapman, John & Goodall, Geoff, Edited by Paul Coggan - Warbirds Directory,Warbirds Worldwide Ltd., Mansfield, England, 1989.
Goodall, Geoff - Warbirds Directory-4th Edition, 2003.

Photo Source(s):
Jim Babcock via Mark Nankivil


---

Research Assistance:
-