PBY-5A CATALINA/Bu. 48375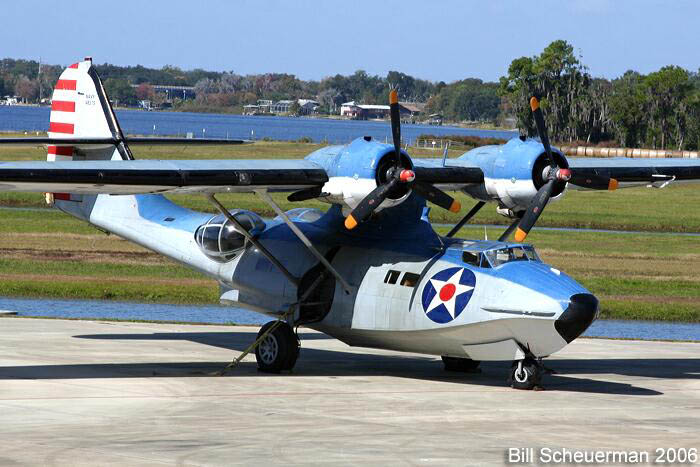 Bureau #: 48375
Construction #: 1737
Civil Registry:
N4937V
ZP-CBA
N96FP
N96UC

Model(s):
PBY-5A Catalina
Name: None
Status: Airworthy
Last info: 2006

History:
Sold as surplus from storage, NAF Seattle, WA, Nov. 30, 1953.
Trans Alaskan Airlines, Nov. 1953.
- Registered as N4937V.
- Stored in military config., Seattle, WA, 1953-1954.
Foreign & Domestic Enterprises, Seattle, WA, Fe. 1954.
Flightcraft Inc, Portland, OR, April 1954.
H. K. Coffey & Associates, Portland, OR, Nov. 1954.
Fleetway Inc, Burbank, CA, Nov. 1954.
Lineas Aereas de Transporte National, Dec. 1954.
Collected deposed Argentine President Juan Peron from warship
in Buenos Aires harbour, Oct. 5, 1955, and flew him to exile in
Paraguay.
Delivered to FA Paraguaya as T-29, later 2002, Nov. 1957-1993.
- WFU, placed in open storage, Asuncion, 1977-1988.
- Resstored to airworthy, Nu Guazau AB, circa 1988.
Frank Porter, Fort Worth, TX, Jan. 19, 1993.
Frank's Aircraft Sales, Fort Worth, TX, June 1993-1994.
- Registered as N96FP.
Noted at Asuncion as N96FP, awaiting delivery, April 1994.
Caribbean Air Transport, San Juan, PR, April 3, 1994-1995.
Charles E. Largay/Universal Associates Inc, Miami, FL, Jan. 1995-1996.
Universal Associates Inc, Wilmington, DE, 1996-2003.
- Registered as N96UC.
Charles Largay, Highlands, NC, Oct. 2005.
Fantasy Of Flight
, Polk City, FL, 2006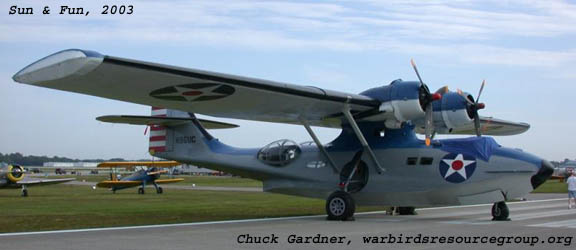 Photo Source(s):
Chuck Gardner
Bill Scheuerman.

Research Assistance:
-