PBY-5A CATALINA/Bu. 46590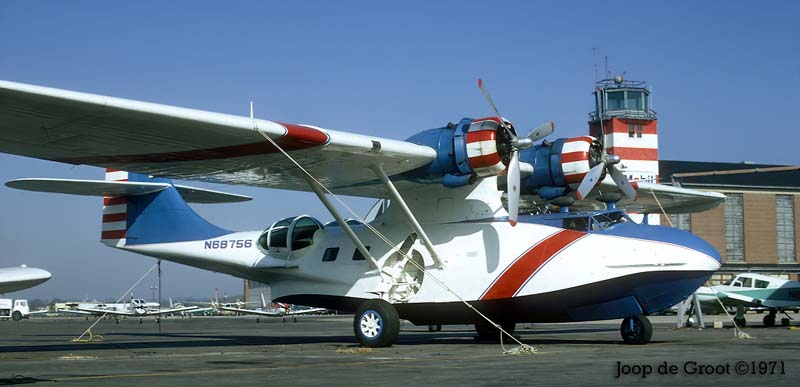 Bureau #: 46590
Construction #: 2143
Civil Registry:
N7057C

Model(s):
PBY-5A Catalina
Landseaire
Name: Sea Bitch
Status: Stored
Last info: 2010

History:
Delivered to US Navy as Bu. 46590, 19??.
Southern California Aircraft Corp, Ontario, CA, 1950.
- Registered as N68756.
Fullerton Oil Co, Pasadena, CA, 1950-1960.
Herbert A. Schriner, Larchmont, NY, 1960-1969.
Endicott P. Davison, New Canaan, CT, 1969-1977.
Quebec Labrador Mission Foundation, Ipswitch, MA, September 1977-1979.
Michael Wansey/Australian Wing CAF, Sept. 18, 1979-1988.
- Operated by Confederate Air Force, 1983-1988.
Confederate Air Force, Midland, TX, 1988-1991.
American Airpower Heritage Flying Museum, Midland, TX, September 1991-1992.
- Flew as RAAF/A24-387/
Sea Bitch
/NB-N.
Commemorative Air Force
, Midland, TX, 2002.
Seized by city of Brownsvile and auctioned off to two Australian citizens.
Stored at Midland, TX, February 2007.
Seen in Pima Air and Space Museum restoration yard in 2010.
Source(s):
Chapman, John & Goodall, Geoff, Edited by Paul Coggan -
Warbirds Directory
,Warbirds Worldwide Ltd., Mansfield, England, 1989.
Joe Baugher's Serial Numbers Page
Photo Source(s):
Joop de Groot

Research Assistance:
-