---
WARBIRD REGISTRY
>
MUSTANG REGISTRY
>
PREVIOUS PAGE
---
P-51 MUSTANG/44-72438
---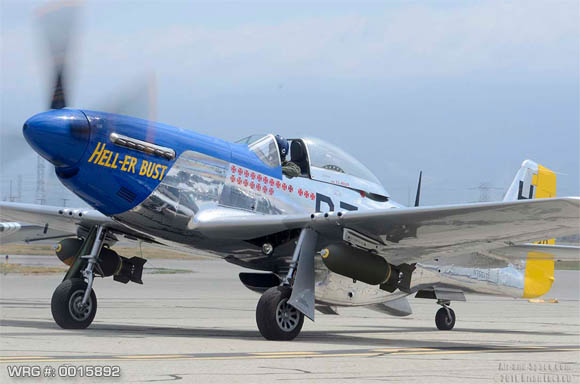 ---
Serial #: 44-72438
Construction #:
122-38897
Civil Registration:
N7551T

Model(s):
P-51D Mustang
J 26
Cavalier
Name: Hell-er Bust
Status: Airworthy
Last info: 2012

---
History:
Delivered to U.S. Army Air Force as 44-72438, 19??.
Delivered to Swedish Air Force As Fv26131, April 24, 1948.
Delivered to Aviacion Militar Dominicana as AMD 1920, October 1952-1962.
Transferred to FA Dominicana as FAD 1920, February 1962-1984.
Brian O'Farrell/Johnson Aviation, Hialeah, FL, May 18, 1984-1987.
Selby R. Burch, Kissimee, Fl, 1987-1995.
- Stored, dismantled, Kissimmmee, FL, 1987-1991.
- Restored to flying condition.
Selby R. Burch, Winter Haven, FL, September 1995-1999.
- registered as N7551T.
Bob Jepson/Lady Alice Corporation, Wilmington, DE, 1999-2006.
- Flew as Lady Alice till 2000.
- Later flew as 472438/
Hell-er Bust
/PZ-H.
John Sessions/Historic Aircraft Foundation, Seattle, WA, March 15, 2006-2009.
- Flown as as 472438/
Hell-er Bust
/PZ-H.
Mark Peterson/Mustang High Flight LLC
, Boise, ID, June 5, 2009-2012.
---
Comments:
Remained on strength with the FA Dominicana until 1983. Acquired by Brian O'Farrel and later by Selby R. Burch. Restored to flying condition in the markings of the commanding officer of the 118th Tactical Reconnaissance Squadron (The Black Lightnings). Superb restoration that was presented with the Grand Champion World War Two Warbird at the 1997Sun 'n Fun event.
---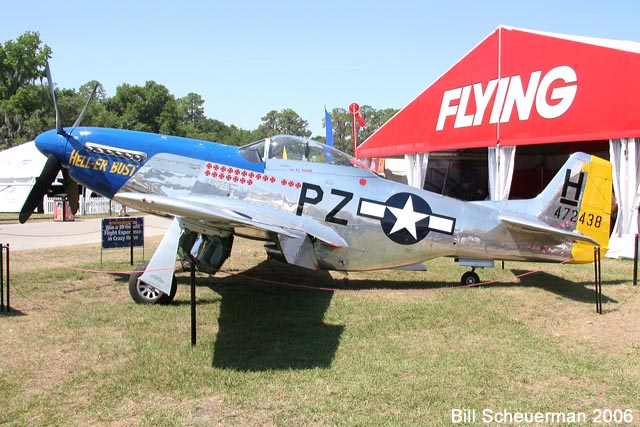 ---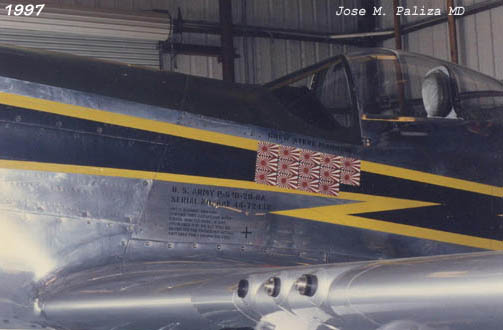 ---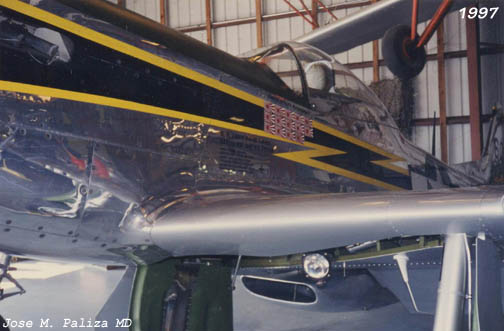 ---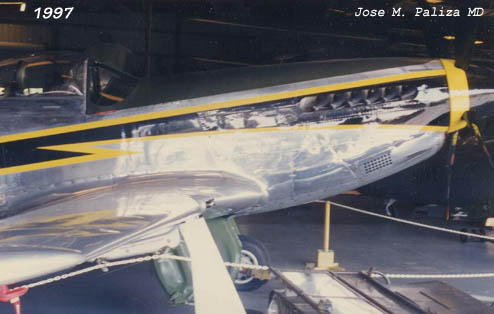 ---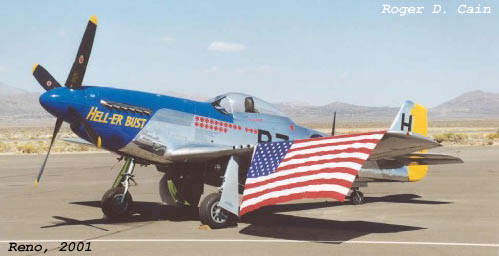 ---
Source(s):
Goodall, Geoff - Warbirds Directory-5th Edition, 2008.
Chapman, John & Goodall, Geoff, Edited by Paul Coggan - Warbirds Directory,Warbirds Worldwide Ltd., Mansfield, England, 1989.
Goodall, Geoff - Warbirds Directory-4th Edition, 2003.
Federal Aviation Administration

Photo Source(s):
Brian Lockett - air-and-space.com
Bill Scheuerman
Roger D. Cain.
Jose M. Paliza.
Research Assistance:
Mark Peterson

---
WARBIRD REGISTRY
>
MUSTANG REGISTRY
>
PREVIOUS PAGE
---