P-51 MUSTANG/44-13105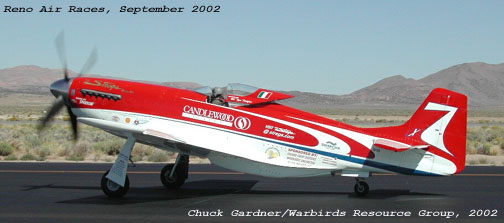 Serial #: 44-13105
Construction #: 111-36388
Civil Registration:
N71FT

Model(s):
P-51D Mustang
Name:
Strega
Status:
Airworthy
Last info:
2006
History:
Delivered to RAAF as A68-679
-
BOC:
July 1945.
-
SOC:
December 1948.
Pearce Dunn/Warbirds Aviation Museum, Mildura, Victoria, 1966-1981.
- Recovered from farm, Benalia, VIC 1966.
- Static restoration, displayed as "A68-679".
Dennis Schoenfelder/David Zeushel/B&D Enterprises, Van Nuys, CA, 1981-1983.
- Shipped to USA, rebuilt as modified racer.
- Flew as race #7"Strega".
- Some components reported used in P-51D static restoration, Barksdale AFB, LA.
Bill Destefani
, Shafter, CA & Sisters, OR, December 1983-2006.
- Registered as N71FT.
- Damaged while landing, Reno, NV, September 1997.
- Rebuilt.
- Flew as race #7"Strega".
---
Comments:
"Strega" is modified as a racer, employing several special modifications. Some of these modifications included a custom-built radiator airscoop, modified canopy, Hoerner wingtips, and a race tuned Merlin engine.
Source(s):
Chapman, John & Goodall, Geoff, Edited by Paul Coggan -
Warbirds Directory
,Warbirds Worldwide Ltd., Mansfield, England, 1989.
Goodall, Geoff -
Warbirds Directory-4th Edition
, 2003.
Federal Aviation Administration
.
Photo Source(s):
Chuck Gardner, 2002
Simon Foley