P-47 THUNDERBOLT/45-49192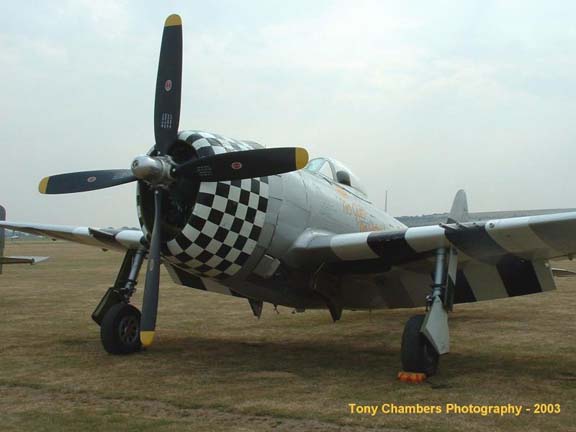 Serial #: 45-49192
Construction #:
39955731
Civil Registration:
N47DD
N147PF

Model(s):
P-47D-40-RA
Name:
No Guts No Glory
Status (2002): Airworthy
Last info: 2008

History:
Built at Republic's Evansville, IN, factory, 1945.
- Allocated to Air Training Command.
- Removed from active service and stored at Tinker AFB, OK.
Delivered to FA Peruana as FAP119, 1953.
- Purchased for $1.
- Restored at Hensley Field, TX before delivery.
- Used as fighter and then as a trainer.
- Withdrawn from service and stored at Piura Air Base in the open until 1969.
Vintage Aircraft International Ltd, Nyack, NY, 1969-1975.
- Registered as N47DD.
- One of six aircraft recovered by Ed Jurist from Peru, along with 45 tons of spares.
- Shipped by sea from Peru to Harlingen, TX, arriving September 5, 1969 on SS Rosaldina.
- Assembled by CAF, Harlingen, TX, first flight 1972.
- Flew as 12AF/86FG/527FS/Grumpy.
Military Aircraft Restoration Corp, Chino, CA, April 1975-1980.
- Stored Barstow-Dagget, CA, April 1975-1977.
Yesterdays Air Force/Kansas Wing, Forbes Field, Topeka, KS, February 1977-January 1980.
- Repainted in 56FG/62FS Scheme.
Robin Collard, Del Rio, TX, January 1980.
- Crashed in Tulsa, OK, during take-off for delivery flight, February 8, 1980 - June 1980.
-- Suffered engine failure on take-off.
- Wreck trucked to Del Rio, TX.
- Parts and spare fuelage gathered for restoration.
John Ward, Saugus, CA, June 1980-1984.
- Shipped to Tuckee-Tahoe airport, NV.
- Restoration Begun.
Jim Kirby, 1984.
The Fighter Collection
, Duxford, UK, 1984-2002.
- Rebuilt at Fighter Rebuilders, Chino, CA.
- First flight, August 1985.
- Shipped to Duxford, Arriving on January 22, 1986.
- Repainted with 78FG/82FS scheme and D-Day Stripes.
- Flown as 226671/MX-X/No Guts No Glory!
-- These markings representing Lt. Col. Ben Mayo's aircraft (CO 82 Fighter Squadron).
Claire Aviation Inc
, Wilmington, DE, March 1, 2007-2008.
- Registered as N147PF
---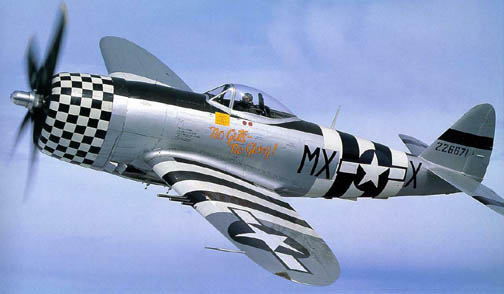 Source(s):
Chapman, John & Goodall, Geoff, Edited by Paul Coggan -
Warbirds Directory
,Warbirds Worldwide Ltd., Mansfield, England, 1989.
Goodall, Geoff -
Warbirds Directory-4th Edition
, 2003.
Federal Aviation Administration
.
Photo Source(s):
Tony Chambers Photography.
Unknown.
Research Assistance:
-