P-47 THUNDERBOLT/44-90447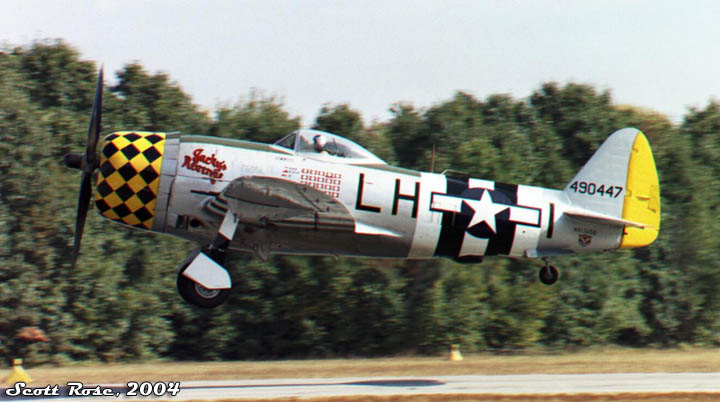 Serial #: 44-90447
Construction #:
399-55592
Civil Registration:
N1345B

Model(s):
P-47N Thunderbolt
Name: Jacky's Revenge
Status: Airworthy
Last info: September 2004

History:
Delivered to Yugoslavian AF as ???, 19??.
Reported as Yugoslavian Aviation Museum, Belgrade.
Recovered derelict from park, Belgrade, 19??.
David Price/Bill Clark/Tiger Destefani/Museum of Flying, Santa Monica, CA, 1989-1993.
- Restored to airworthy, Shafter, CA.
- First flight, June 1993.
- Flew as 490447/LH-I.
William P. Clark/Repatria Inc, Paso Robles, CA
& Museum Of Flying/Liberty Aero Corp, Santa Monica, CA, April 12, 1993-2000.
- Registered as N1345B.
- Flew as race #39.
Jeff Clyman/PT-17 Inc/American Airpower Museum
, Farmingdale, NY, May 2000-2004
- Based at Republic Airport, NY.
- Flown in USAAF scheme as 490447/LH-I/"Jacky's Revenge".
---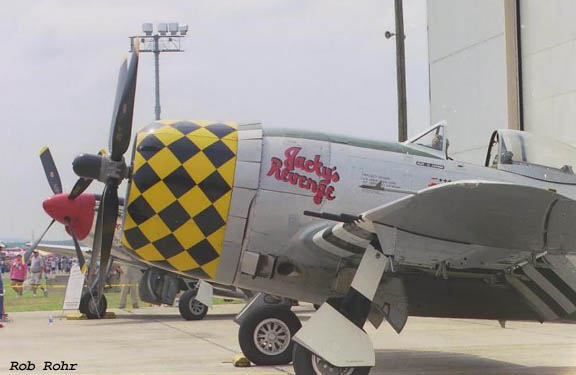 ---
Source(s):
Chapman, John & Goodall, Geoff, Edited by Paul Coggan - Warbirds Directory,Warbirds Worldwide Ltd., Mansfield, England, 1989.
Goodall, Geoff - Warbirds Directory-4th Edition, 2003.
Federal Aviation Administration, www.faa.gov, Washington D.C., 2002.


Photo Source(s):
Rob Rohr.
Scott Rose.