---
WARBIRD REGISTRY
>
NEPTUNE REGISTRY
>
PREVIOUS PAGE
---
NEPTUNE/BU. 150282
---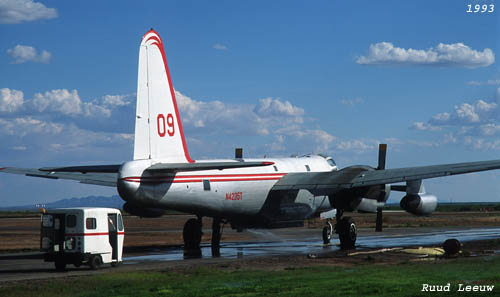 ---
Bureau #: 150282
Construction #:
726-7285
Civil Registration:
N4235T

Model(s):
SP-2H
Name: None
Status: Destroyed
Last Info: 2008

---
History:
Neptune Aviation Services Inc
, Missoula, MT, 1993-2008.
- Registered as N4235T.
- Flew as tanker T-09.
- Crashed and destroyed in fatal accident, near Reno, NV, Sept. 1, 2008.
---
NTSB Identification: SEA08GA194
Accident occurred Monday, September 01, 2008 in Reno, NV
Aircraft: Lockheed SP-2H, registration: N4235T
Injuries: 3 Fatal.
This is preliminary information, subject to change, and may contain errors. Any errors in this report will be corrected when the final report has been completed.
On September 1, 2008, about 1810 Pacific daylight time, N4235T, a Lockheed SP-2H airplane, was destroyed after impacting terrain following a loss of power and loss of control about 2 miles northwest of the Reno/Stead (4SD) Airport, Reno, Nevada. The airplane was registered to Neptune Aviation Services Inc., of Missoula, Montana, and operated by the California Department of Forestry and Fire Protection (CAL FIRE). The airline transport first pilot, who occupied the left crew seat, the airline transport second pilot who occupied the right crew seat, and the flight mechanic who occupied the cockpit jumpseat, were killed. Visual meteorological conditions prevailed for the Public Use air drop flight, which was being operated in accordance with 14 Code of Federal Regulations Part 137, and a company flight plan was filed and activated. The flight was originating at the time of the accident.
An air tanker base employee who witnessed the accident reported observing the airplane taxi to Runway 32 "...and everything appeared normal." The witness reported watching the airplane takeoff, and at an elevation estimated to be between 100 to 300 feet above the ground, he observed the left jet engine emitting flames, followed by the left wing being engulfed in flames. The witness further reported that about 2 seconds later the airplane entered a left wing down attitude before impacting terrain and bursting into flames.
The National Transportation Safety Board investigator-in-charge (IIC), accompanied by representatives from the Federal Aviation Administration (FAA), the United States Department of Forestry, and representatives from Neptune Aviation Services, Inc., responded to the accident site on September 2, 2008. The initial onsite examination revealed that about 500 feet from the departure end of Runway 32, several identifiable pieces of the airplane's left jet engine were located. It was also revealed that prior to impacting terrain the airplane had collided with a set of powerlines, estimated to be about 50 feet high. An initial ground impact scar was observed about 25 feet west of the powerlines, followed by the airplane's energy path proceeding in a westerly direction, covering a measured distance of about 755 feet on a magnetic heading of 250 degrees. The damage assessment also revealed that the airplane had sustained significant fragmentation and thermal damage throughout the debris path.
The airplane will be recovered to a secure location for further examination.

---
---
WARBIRD REGISTRY
>
NEPTUNE REGISTRY
>
PREVIOUS PAGE
---