---
WARBIRD REGISTRY
>
MOSQUITO REGISTRY
>
PREVIOUS PAGE
---
MOSQUITO/PZ474
---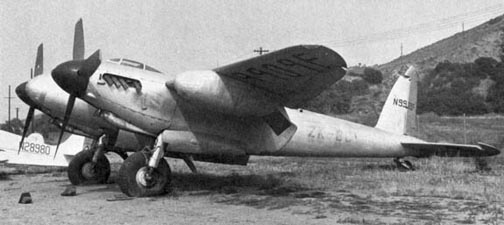 ---
Serial #: PZ474
Construction #: -
Civil Registration:
ZK-BCV
N9909F

Model:
Mosquito FB Mk. VI
Name: None
Status: Restoration
Last info: 1991

---
History:
Delivered to RNZAF as NZ2384.
- BOC: Apr. 15, 1947.
Bob Bean & Arthur Kaplan/Aircraft Sales Inc, Los Angeles, CA, 1953.
Aircraft Supplies (NZ( Ltd, Palmerston North, July 1953.
- Registered as ZK-BCV.
- Acting on behalf of Aircraft Sales Inc.
- Delivered to USA, Feb. 1955.
Insurance Finance Corp, Studio City, CA, circa 1955-1966.
- Registered as N9909F.
Reported used in South America by CIA
Marvin E. Whiteman, Whiteman Air Park, CA, 1970.
The Air Museum, Ontario, CA, 1965-1967.
Reported derelict, Whiteman Air Park, CA, 1959-1970.
Parts held by John Caler, Sun Valley, CA, 1975.
Jim Merizan
, Placentia/Yorba Linda, CA, 1970-1991.
- Under restoration, Chino, CA, for static display.
---
Source(s):
Chapman, John & Goodall, Geoff, Edited by Paul Coggan - Warbirds Directory,Warbirds Worldwide Ltd., Mansfield, England, 1989.

Photo Source(s):
Unknown

---
WARBIRD REGISTRY
>
MOSQUITO REGISTRY
>
PREVIOUS PAGE
---