---
WARBIRD REGISTRY
>
L-39 ALBATROS REGISTRY
>
PREVIOUS PAGE
---
L-39 Albatros/N602MC
---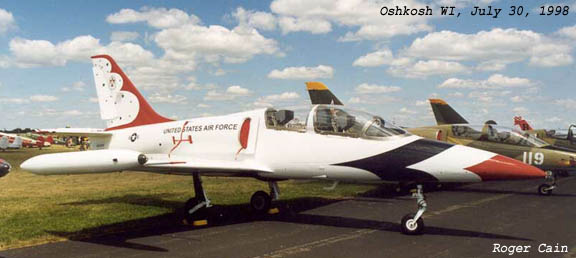 ---
Serial #: ?
Construction #: 135234
Civil Registration:
N602MC

Model(s):
L-39CT Albatros
Name: None
Status: Destroyed
Last info: 2001

---
History:
MAC Flightlease
, Inc, Portland, OR, 1997-2001.
- Registered as N602MC.
---
---
NTSB Identification: DEN01FA044

Accident occurred Wednesday, January 24, 2001 at Watkins, CO
Aircraft:Aero Vodochody L-39CT, registration: N602MC
Injuries: 2 Fatal.
This is preliminary information, subject to change, and may contain errors. Any errors in this report will be corrected when the final report has been completed.
On January 24, 2001, at 1127 mountain standard time, an Aero Vodochody L-39CT, N602MC, was destroyed when it impacted terrain while on departure from Front Range Airport, Watkins, Colorado. The airline transport pilot and his passenger were fatally injured. MAC Flightlease, Inc., of Portland, Oregon, was operating the airplane under Title 14 CFR Part 91. Visual meteorological conditions prevailed for the local flight that was originating at the time of the accident. No flight plan had been filed.
According to witnesses, the airplane departed from runway 26, and turned crosswind for a southbound departure. The airplane was observed to pitch-up approximately 30 degrees, and drop immediately to the ground. The impact with terrain destroyed the airplane.

---
Source(s):
Federal Aviation Administration
, www.faa.gov.
NTSB
, www.ntsb.gov
Photo Source(s):
Roger Cain
---
WARBIRD REGISTRY
>
L-39 ALBATROS REGISTRY
>
PREVIOUS PAGE
---