---
WARBIRD REGISTRY
>
DELFIN REGISTRY
>
PREVIOUS PAGE
---
L-29 Delfin/294682
---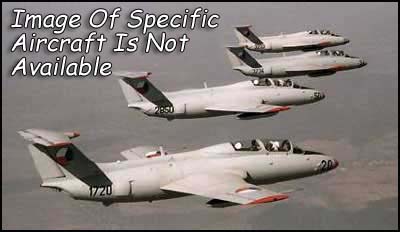 ---
Construction #: 294682
Civil Registration:
ZU-CYI

Model: L-29 Delfin
Name: None
Status: Crashed
Last info: 2014

---
History:
Built by Aero Vodochody, 19??.
Delivered to Bulgarian AF as 97, 19??.
Tyco Aerobatic Team, Johannesburg-Rand, South Africa, 2002.
BDS Flying Services Partners/Tiger Flight, Johannesburg-Rand, March 26, 2003-2006.
- Flew as part of Sasol Tigers formation team.
- Flew in tiger stripe scheme.
- Crashed into sea, off Milnerton, Cape Town, South Africa, September 22, 2006.
-- Pilot Martin van Straten fatally injured.
---
---
WARBIRD REGISTRY
>
DELFIN REGISTRY
>
PREVIOUS PAGE
---