---
WARBIRD REGISTRY
>
JET REGISTRY
>
HUNTER REGISTRY
>
PREVIOUS PAGE
---
Hawker Hunter/XL600
---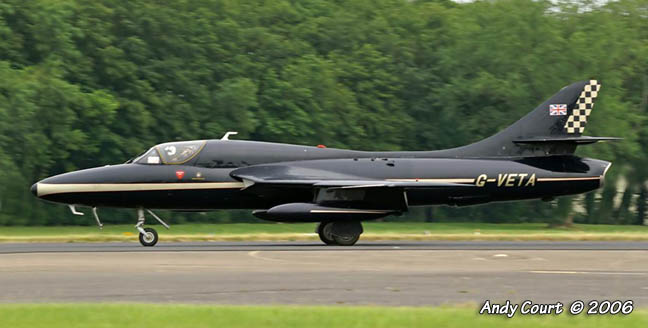 ---
Serial #: XL600
Construction #:
41H-693751
Civil Registration:
G-BVWN
G-VETA

Model(s):
T Mk. 7
Name: None
Status: Airworthy
Last info: 2006

---
History:
Delivered to RAF as XL600, November 14, 1958.
Gary Tuplin/Ed Stead, Southall, Greater London, UK, June 1992.
- Stored, plans to export to UK, Later stored, North Weald, Essex.
- Registered as G-BVWN
- Restored to airworthy, first flight March 20, 1997.
Veta Ltd, Kemble, UK, 1996-2000.
- Registered as G-VETA.
Gordon Hannan/Veta Ltd., Kemble UK, 2000-2004.
Gower Jets, North Weald, UK, 2004.
Skyblue Aviation
, Exeter, UK, Oct. 2005-2006.
---
---
WARBIRD REGISTRY
>
JET REGISTRY
>
HUNTER REGISTRY
>
PREVIOUS PAGE
---