---
WARBIRD REGISTRY
>
JET REGISTRY
>
HUNTER REGISTRY
>
PREVIOUS PAGE
---
Hawker Hunter/XL573
---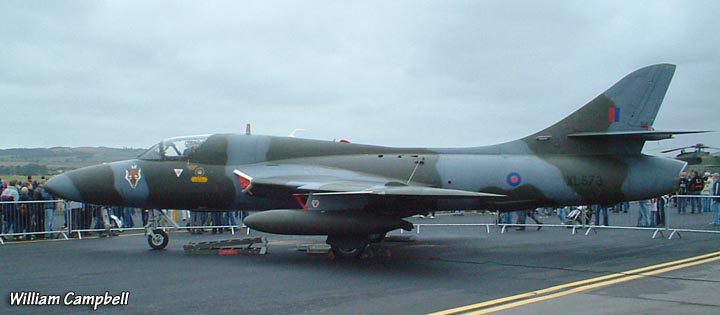 ---
Serial #: XL573
Construction #:
HABL-003360
Civil Registration:
G-BVGH

Model(s):
T Mk. 7
Name: None
Status: Airworthy
Last info: 2005

---
History:
Built by Hawker Aircraft at their Kingston plant, 1958.
- First flight, April 17, 1958.
Delivered to RAF as XL573.
-
BOC:
July 17, 1958.
- Assigned to Day Fighters Leading School, RAF West Raynham, 19??.
- Served with the Air Fighting Development School and the Day Fighters Conversion Squadron,
RAF West Raynham, 19??.
- Transferred to 229 Operational Conversion Unit, RAF Chivenor, 19??.
- Served with 229 Operational Conversion Unit to 4 Fighter Training Squadron at RAF Valley, 197?.
- Served with 237 Operational Conversion Unit based at RAF Honington, 19??.
- Served at RAF Laarbruch Germany, used as weapons trainers for the
Buccaneer pilots of the Squadron. It was briefly used by the bases' station flight before being
returned to 237 Operational Conversion Unit, 19??.
- Relocated to RAF Lossiemouth in Scotland. Here '573 served out the remainder of her RAF career
before retirement, after some of the Buccaneers were finally withdrawn from service, 19??.
- Stored, RAF Shawbury, 1991.
Barry Pover/Lightning Flying Club, Exeter, UK, 1993-1998.
- Registered as G-BVGH.
- Restored to airworthy, 1993-1994.
- Stored at RAF St. Magwan and offered for sale, 1998.
DAT Enterprises Ltd.
, North Weald, 1998-2001.
- Stored, 1998-2001.
- Operated by Hunter Display Team, Exeter, UK, 2001.
---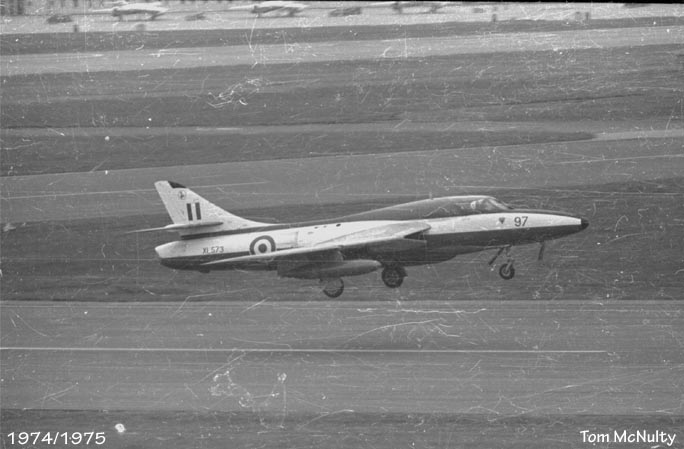 ---
Source(s):
-

Photo Source(s):
William Campbell.
Tom McNulty.


---

Research Assistance:
Tom Inkster

---
WARBIRD REGISTRY
>
JET REGISTRY
>
HUNTER REGISTRY
>
PREVIOUS PAGE
---