---
WARBIRD REGISTRY
>
JET REGISTRY
>
F-86 SABRE REGISTRY
>
PREVIOUS PAGE
---
CL-13 SABRE/RCAF23226
---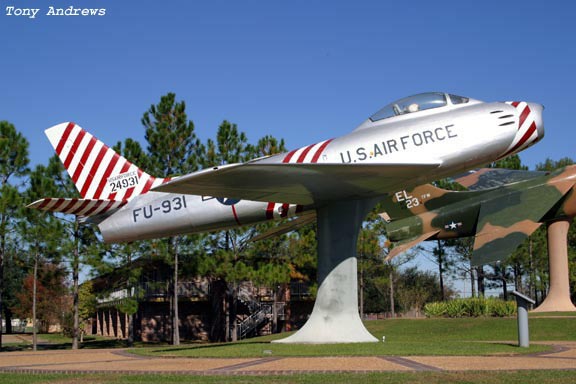 ---
Serial #: RCAF23226
Construction #:
1016
Civil Registration:
N46883

Model(s):
CL 13 Sabre Mk. 5
QF-86E Sabre
Name: None
Status: Displayed
Last info: 2002

---
History:
Maritime Aircraft Repair & Overhaul/Targetair Ltd, Moncton, NB, 19??.
Flight Systems Inc, Mojave, CA, February 1984.
- Registered as N46883.
Southern Cal. Aviation Inc, Corona Del Mar, CA, 1986.
Struck off US Civil Registry, December 1986.
National Museum Of The U.S. Air Force
, England AFB, LA, 1994-2002.
- Displayed as USAF/52-04931.
---
Source(s):
Chapman, John & Goodall, Geoff, Edited by Paul Coggan - Warbirds Directory,Warbirds Worldwide Ltd., Mansfield, England, 1989.
Preserverd US Military Aircraft, www.coastcomp.com/av/pres/index.htm
Photo Source(s):
Tony Andrews

---
WARBIRD REGISTRY
>
JET REGISTRY
>
F-86 SABRE REGISTRY
>
PREVIOUS PAGE
---