---
WARBIRD REGISTRY
>
JET REGISTRY
>
F-105 THUNDERCHIEF REGISTRY
>
PREVIOUS PAGE
---
F-105 THUNDERCHIEF/62-4259
---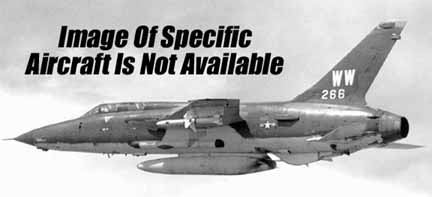 ---
Serial #: 62-4259
Construction #: -
Civil Registration:
None

Model(s):
F-105D Thunderchief
Name: None
Status: Displayed
Last info: 2015

---
History:
Built by Republic Aviation, Farmingdale, NY, 1962.
Delivered to United States Air Force as 62-4259.
-
BOC:
March 1963.
-
SOC:
2011.
- Assigned to the 4th Fighter Wing at Seymour Johnson AFB, NC, 1963.
- Transferred to 41st Air Division, Osan AB, South Korea, November 1963.
- Transferred to 355th Tactical Fighter Wing at Takhli RTAB, August 1967-October 1970.
- Transferred to 507th Tactical fighter Group (AFRES) at Tinker AFB, OK, August 1972.
- Transferred to 466th Tactical Fighter Squadron at Hill AFB, UT, October 1980.
- Transferred to Lackland AFB, TX, 1983.
-- Used by Air Force Security for flight line operation training.
Museum of Aviation
, Robins AFB, Warner Robins, GA, 2011-2015.
---
---
WARBIRD REGISTRY
>
JET REGISTRY
>
F-105 THUNDERCHIEF REGISTRY
>
PREVIOUS PAGE
---