---
WARBIRD REGISTRY
>
JET REGISTRY
>
SUPER SABRE REGISTRY
>
PREVIOUS PAGE
---
F-100F Super Sabre/56-3916
---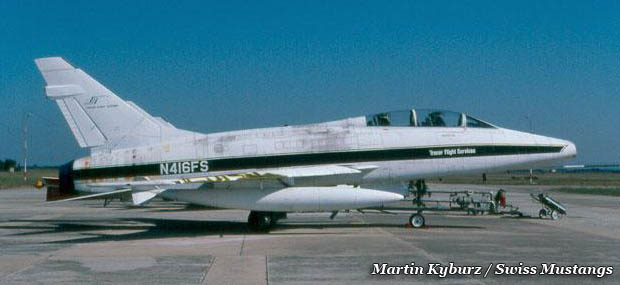 ---
Serial #: 56-3916
Construction #:
243-192
Civil Registration:
N3251X
N3251W
N416FS

Model(s):
F-100F Super Sabre
Name: None
Status: Unknown
Last info: 2003

---
History:
Delivered to RDAF as GT-916, 19??.
Registration N3251X reserved but not taken up, 19??.
Flight Systems Inc, Mojave, CA, Oct. 1982.
- Registered as N3251W.
- Delivered Denmark to Filton, UK, January 27, 1983.
Flight Systems Inc, Hurn/Deccimomanu, March 1983-1992.
- Registered as N416FS.
Big Sky Warbirds LLC
, Belgrade, MT, June 12, 2003.
---
Source(s):
Chapman, John & Goodall, Geoff, Edited by Paul Coggan - Warbirds Directory,Warbirds Worldwide Ltd., Mansfield, England, 1989.
Federal Aviation Administration, www.faa.gov, Washington D.C., 2005.
Photo Source(s):
Martin Kyburz/Swiss Mustangs.

---
WARBIRD REGISTRY
>
JET REGISTRY
>
PREVIOUS PAGE
---