A-3 SKYWARRIOR/Bu. 144832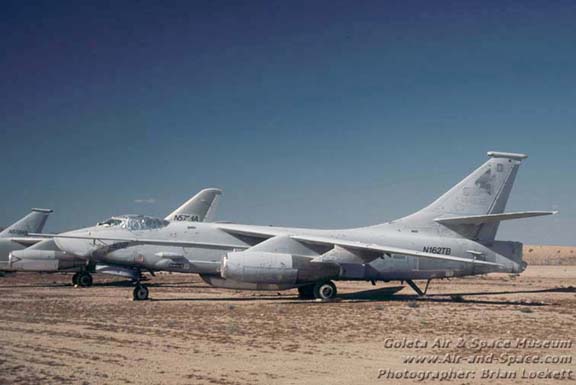 Bureau #: 144832
Construction #: -
Civil Registration:
N162TB
N878RS

Model(s):
A3D-2P Skywarrior
RA-3B Skywarrior
ERA-3B Skywarrior
Name: None
Status: Partial/Display
Last info: 2011

History:
Delivered to U.S. Navy as Bu. 144832.
–
BOC:
N/A.
–
SOC:
N/A.
- Converted to ERA-3B, May 1973.
- Issued to VAQ-33 Firebirds, NAS Key West, FL.
Thunderbird Aviation, 19??.
- Registered as N162TB.
Department Of The Navy/Raytheon System Co, Van Nuys, CA, 1992-1998.
- Registered as N878RS.
Noted stored, Mojave, CA, September 10, 2001.
National Museum Of Naval Aviation
, Pensacola, FL, 2010-2012.
- Coskpit section only, displayed.