FM-2 Wildcat/Bu. 86754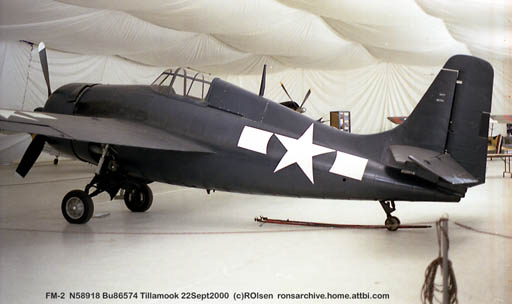 Bureau #: 86754
Construction #: 5812
Civil Registration:
N58918

Model(s):
FM-2 Wildcat
Name: None
Status: Airworthy
Last info: 2019

History:
Delivered to the U.S. Navy as Bu. 86754.
Medford Air Service, Medford, OR, 1955-1958.
Registered as N58918.
Flown as sprayer.
Ron Zerbel, Nyssa, OR, 1963-1964.
Spray Rite Inc, Oakley, ID, 1966-1970.
Don H. Novas, Blackfoot, ID, 1977-1987.
Withdrawn from use and became derelict
. Erickson Air Crane, Central Point, OR, 1987-1997.
Tillamook Air Museum, Tillamook, OR, 1997-2014.
Erickson Aircraft Collection, Madras, OR, 2014-2019.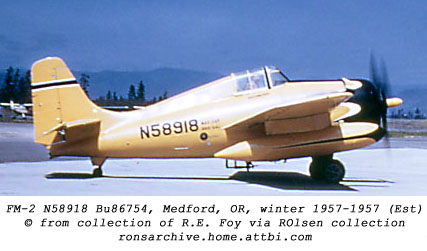 Source(s):
Chapman, John & Goodall, Geoff, Edited by Paul Coggan - Warbirds Directory,Warbirds Worldwide Ltd., Mansfield, England, 1989.
Goodall, Geoff - Warbirds Directory-4th Edition, 2003.

Photo Source(s):
ROlsen Collection.

---
Research Assistance:
John Terrell