F4F Wildcat/Bu. 55627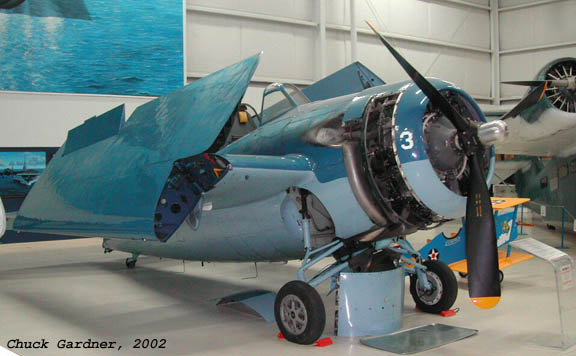 Bureau #: 55627
Construction #: 3268
Civil Registration:
N7906C
N47201

Model(s):
FM-2 Wildcat
Name: None
Status: Display
Last info: 2003

History:
Ed Maloney/The Air Museum, Ontario, CA, 1959-1972.
- Registered as N7906C.
James Nunn, Ontario, CA, 1976-1977.
- Registered as N47201.
John V. Cocker, San Mateo, CA, 1982-1984.
- Leased by Stephen Grey/The Fighter Collection, Duxford, UK, 1982-1985.
-- Delivered to France from USA, June 11, 1982.
Robert J. Pond/Planes of Fame East, Minneapolis, MN, June 1985-1997.
Palm Springs Air Museum
, Palm Springs, CA, Dec. 1997-2003.
- Displayed but reported airworthy.
Source(s):
Chapman, John & Goodall, Geoff, Edited by Paul Coggan - Warbirds Directory,Warbirds Worldwide Ltd., Mansfield, England, 1989.
Goodall, Geoff - Warbirds Directory-4th Edition, 2003
Photo Source(s):
Chuck Gardner -
Warbirds Resource Group
, www.warbirdsresourcegroup.org, 2002
---
Research Assistance:
-