SKYTRAIN/43-15935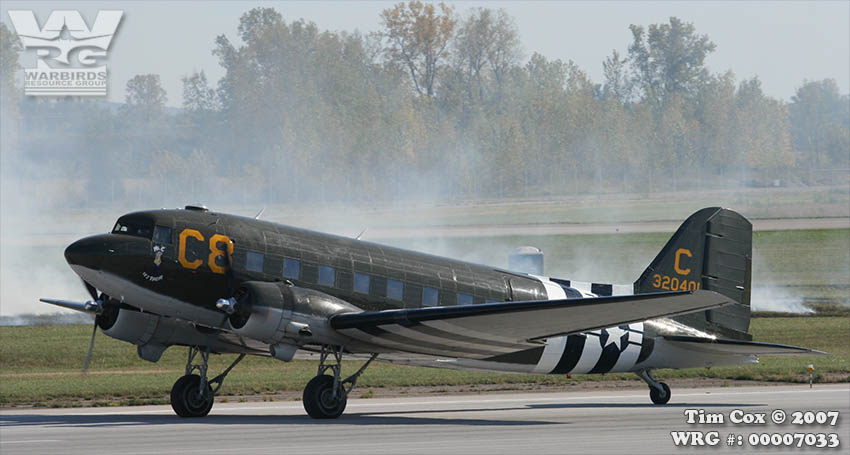 C-47A Skytrain/43-15935, at the Gathering Of Mustangs and Legends, Columbus, OH, September 28, 2007.
---
Serial #: 43-15935
Construction #: 20401
Civil Registration:
VH-BHC
G-ALFO
N94529
N300A
N700E
N20DH
N3BA
N890P
N12RB
N33VW

Model(s):
C-47A-90-DL Skytrain
Name: None
Status: Airworthy
Last info: 2019

History:
Built by Douglas at Long Beach, CA, 1944.
Delivered to United States Army Air Force as 43-15935.
BOC: May 29, 1944.
SOC: N/A.
Assigned to the 7th Air Force, Oahu, HI, June 16, 1944.
Transferred to 7th Air Force, Manila, Philippines, circa 1945.
Transferred to Headquarters, 20th Air Force, Northwest Field, Guam, April 24, 1946.
Declared surplus, November 29, 1946.
Silver City Airways, Sydney, New South Wales, Australia, Februatry 28, 1947.
Zinc Corporation, London, December 17, 1948.
Registered as G-ALFO, December 30, 1948.
Indamer Corp, New York, NY, 19??.
Standard Industries Corp., December 22, 1950.
Esso Shipping Co, Inc, NY, October 1951.
Butterworth System, Inc., November 1953.
Standard Industries Inc, Tulsa, OK, October 24, 1961.
St. Louis-San Francisco Railway Co., St Louis, MO, 1964.
Diamondhead Properties Inc, Saint Louis, MO, March 1970.
Metropolitan Mooney, Teterboro, NJ, April 3, 1972.
J. C. Bowman, Greenvile, SC, May 1972.
Registered as N3BA, July 1972.
Inor Corporation, Circa 1974.
Bo-S-Aire Corporation, January 1975.
R. C. Schnabel, Greenville, SC, 1976.
Leased to Bo-S-Aire Corp., 1978
Returned from lease, April 21, 1979.
R. C. Schnabel, Greenville, SC, April 21, 1979.
Skyway Aviation Inc, Fort Leonard Wood, MO, May 18, 1979.
Skyway Aviation of Texas, Brownsville, TX, June 19, 1980.
Air Americana, October 1980.
Compadre Markets Inc, Corpus Christi, TX, January 28, 1981.
Southwind Aviation, Inc, Los Fresnos, TX, June 18, 1986.
Avlease Inc, Wilmington, DE, February 13, 1990.
Robert Burwell, West Chicago, IL, July 2, 1990.
Registered as N12RB, October 1990.
Dakota Aircraft Inc, Orlando, FL, Circa August 1992.
Remained at DuPage Airport, West Chicago, IL.
Viking Express, West Chicago, IL, December 31, 1992.
Branson's Vintage Air Tours Eve Amelia, July 1993
Named Amelia.
Withdrawn from use, Orlando, FL due to owner death, September 1997.
Vintage Wings and Things Llc, Carencro, LA, November 12, 1997.
Registered as N33VW.
Operated by Vintage Airways.
Cavanaugh Flight Museum
, Addicon, TX, 2001-2019.
Registered as N33VW, January 2009.
Photo Source(s):
Timothy Cox.