SKYTRAIN/42-24064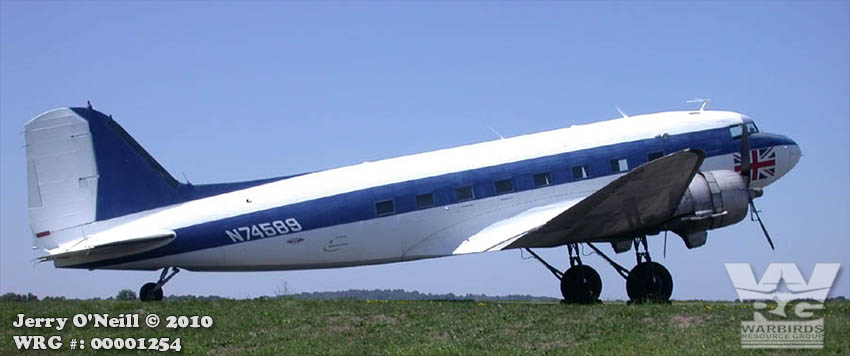 Serial #: 42-24064
Construction #: 9926
Civil Registration:
NC74589
N74589

Model(s):
C-47A-40-DL Skytrain
Name: Placid Lassie
Status: Airworthy
Last info: 2019

History:
Built by Douglas at Long Beach, CA.
Delivered to United States Army air Force as 42-24064.
BOC: July 26, 1943.
SOC: N/A.
Assigned to 74th TCS, 434th TCG at RAF Aldermaston.
Named Placid Lassie.
Participated in D-Day operation.
It also saw action at Arnhem and during the Battle of the Bulge.
Damaged while parked by C-47A 42-100505 landing at Geinhausen (Y-67), Germany, April 3, 1945.
Transferred to 81st Troop Carrier Squadron, Hunter, Savannah, GA, July 6, 1945.
Stored at San Bernardino, CA, July 14, 1945.
Transferred to RFC, November 19, 1945.
National Air Transportation Service, 19??
West Coast Airlines, June 23, 1949.
Assigned leet number '106'.
Air West, August 1967.
Aerodyne Corp, Renton, WA, June 18, 1968.
Withdrawn from use, Renton, WA.
Stored, May 1974 to January 1980.
Saber Aviation, May 1984.
Jurmie E Watkins Jr, August 6, 1992.
Dodson International Air, 19??.
Carolina Shuttle, Greensboro, NC, 1998
Stored Covington, GA, 1998
Dixie Jet Services Inc, Newnan, GA, August 6, 2008.
Wells Fargo Bank Northwest Na Trustee, Salt Lake City, UT, June 3, 2010-2012.
Restoration at Prairie Aviation Museum, Bloomington, IL July 2008.
Operated by Tradewind Aviation.
Flown as Union Jack Dak, 2010
Tunison Foundation Inc/Tradewind Aviation, Oxford, CT, December 2018-2019.
Photo Source(s):
Jerry O'Neill