SKYTRAIN/42-92847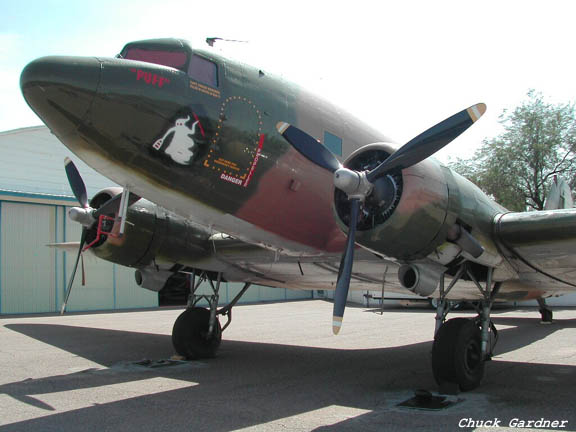 Serial #: 42-92847
Construction #: 12693
Civil Registration:
NC88874
N88874
N47TB

Model(s):
C-47A-15-DK Skytrain
Name: That's All, Brother
Status: Airworthy
Last info: 2019

History:
Delivered to the United States Army Air Force as 42-92847.
BOC: March 6, 1944.
Assigned to 8th AF, April 26, 1944.
Transferred to 9th AF, April 27, 1944.
Assigned to 9th Troop Carrier Command.
Named That's All Brother.
Flew as lead aircraft in D-Day invasion;dropping paratroopers of the 101st Airborne Division at 0048.
Hit by Flak.
Returned to England, repaired Flak damage, then made 2nd mission in the evening, delivering a glider load of troops and equipment to the men of the 82nd Airborne Division.
After airfields secured in France, this aircraft flew many missions flying supplies into France and evacuated wounded troops to England.
Dropped paratroopers in Operation Dragoon, the invasion of southern France, August 15, 1944.
Dropped paratroopers during Operation Market Garden, September 17, 1944.
Flew supply missions during Battle of the Bulge, December 1944-January 1945.
Dropped paratroopers of the 507th Parachute Infantry Regiment, 17th Airborne Division in Germany during Operation Varsity, March 24, 1945.
Returned to U.S.A, August 4, 1945.
Transferred to RFC at Walnut Ridge, AR, October 26, 1945
Air Cargo Transport Corporation, circa late 1945.
United Gas Corporation, 1946.
Union Producing Company, Shreveport, LA, 1953-1967.
May have been used for covert duty with CIA, Circa 1960-1967.
Jim Hankins Air Services, Jackson, MS, 1967.
Southeastern Land Corporation, Mobile, AL, August 1968.
Jim Hankins Air Services, 1971.
Church of God Union Assembly Inc, Dalton, GA, 1972.
Air New England, East Boston, MA, June 1976.
Cryderman Air Services, April 28, 1977.
National Jet Service, Indianapolis, IN, June 1977.
Air Indiana, August 1978.
McCollum Aviation Inc, Danville, IL, July 9, 1980.
Astro Airways Inc, Pine Bluff, AR, March 10, 1981.
Skyborne International Company, Geneseo, NY, July 23, 1991.
Summit Aviation Inc, February 1, 1997.
Randsburg Corporation, Portland, OR., August 6, 1998.
Displayed at Aero Heritage Museum, Falcon Field, Mesa, AZ, 1999-September 2003.
Royal Aviation, August 2001.
Randsburg Corp, TX, May 29, 2002-2003.
Restored and fitted with three Gatling guns to replicate an AC-47.
Here a veteran recognized the aircraft's WWII ID.
Randsburg Corp, WI, September 9, 2003.
Basler Turbo Conversions, Oshkosh, WI, December 3, 2008.
Planned to convert to turboprop, but was withdrawn from use and left in boneyard at Oshkosh.
Veteran who found it in AZ followed the plane here and sought to have it restored to WWII condition.
American Airpower Heritage Flying Museum/Commemorative Air Force
, Dallas, TX, September 4, 2015.
Restoration begun, with restoration to WWII D-Day configuration.
First flight since restoration, January 31, 2018.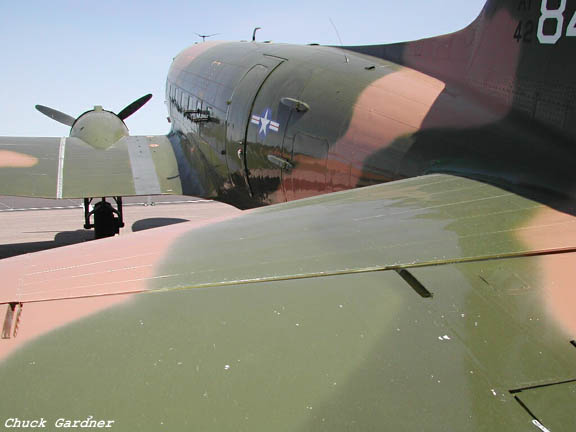 Photo Source(s):
Chuck Gardner

---
Research Assistance:
Andy Maag